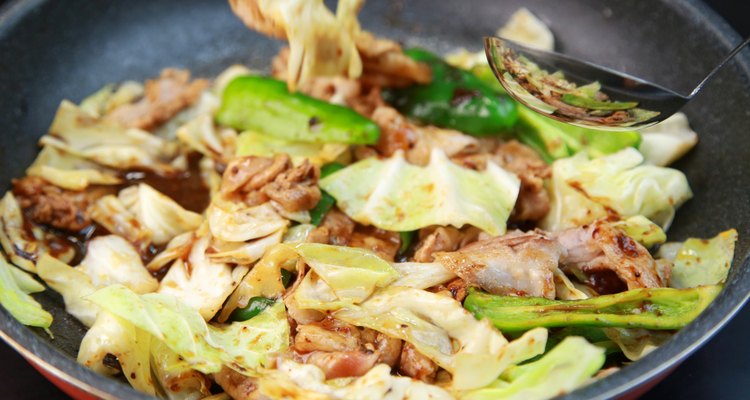 yasuhiroamano/iStock/Getty Images
Protein isn't just for strong muscles. Every single cell in your body relies on it for everyday functions and, in some cases, for energy. When you're striving to increase your protein intake, you don't always need to turn to meat or fish. Vegetables can help you add more protein to your diet. All vegetables have at least a little protein.
Leafy Greens
If you want to get more protein from your salad, you'll need to select the right types of leafy greens. A cup of raw chopped kale offers almost 3 grams of protein, 1 cup of shredded collard greens contain 1 gram and raw spinach also provides close to 1 gram of protein per cup. Cabbage is somewhat high in protein, too. You'll get 2.5 grams of protein from 1 cup of shredded green cabbage, or closer to 1.5 grams from the same amount of red cabbage. One cup of chopped Swiss chard, butterhead or iceberg lettuce each give you nearly 0.75 of a gram of protein. The same serving size of red leaf lettuce contains less than 0.5 gram.
Non-Starchy Vegetables
Brussels sprouts are a non-starchy vegetable that contain a lot of protein. One cup of cooked Brussels sprouts contains more than 5.5 grams of protein. A diced, boiled 1-cup serving of asparagus gives you around 4.5 grams of protein. Boiled beets or broccoli each offer nearly 3 grams of protein from a 1-cup serving, while a cup of steamed cauliflower has about 2.5 grams. Raw, sliced white mushrooms provide more than 2 grams in a cup, the same quantity of uncooked onions have 1.75 grams and 1 cup of raw julienne bell peppers have close to 1.5 grams. If you snack on 10 raw baby carrots, 1 cup of sliced cucumbers or enjoy a steamed 1-cup side of eggplant, you'll get roughly 1 gram of protein.
Squash Varieties
Squash is perfectly delicious as a hot side dish, or you can add it to stews or pasta dishes to increase your protein intake a bit. Bright yellow summer squash, sweet pumpkin or butternut squash each offers nearly 2 grams of protein from a cooked 1-cup cubed portion. Or, if zucchini is your go-to type of squash, a similarly sized prepared portion of zucchini gives you more than 2 grams of protein. Acorn squash has closer to 2.5 grams of protein from a cup of baked cubes.
High-Starch and Root Vegetables
Your favorite baked spud does indeed give you protein. One 5 1/4-ounce baked potato contains close to 4 grams of protein. You'll get about the same amount of protein from a similarly sized baked sweet potato. A rutabaga provides 1.5 grams of protein from a cubed 1-cup serving, while a cup of jicama has just half that amount of protein. For more than 8.5 grams of protein, you can have a full cup of green peas. Or, you can have a side of steamed corn to add 4.5 to 5.5 grams of protein to your plate.
Details on Beans
Beans are a protein-rich part of the vegetable group. When cooked and chilled, they make a hearty addition to salads, but you can enjoy them hot, as well. Cooked pinto beans offer about 15 grams of protein per cup, while the same quantity of Lima beans provide more than 12 grams. Kidney beans, cooked and portioned to a 1-cup serving size, give you 15 grams. You'll get roughly 15 grams of protein from a cup of prepared navy beans.
References
Writer Bio
Melodie Anne Coffman specializes in overall wellness, with particular interests in women's health and personal defense. She holds a master's degree in food science and human nutrition and is a certified instructor through the NRA. Coffman is pursuing her personal trainer certification in 2015.
Photo Credits
yasuhiroamano/iStock/Getty Images