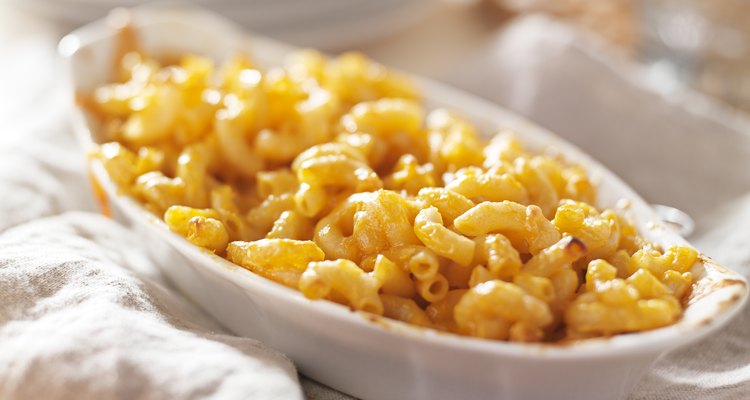 rez-art/iStock/GettyImages
Whip up a stovetop version of a comfort food favorite
If you want to be greeted by cheers at dinner after a long day at work, make mac and cheese. Kids and adults alike love the creamy texture and rich, cheesy flavor of this comfort food. Serve it with a large salad for a meal in itself, or make it a side dish for an easy main, such as grilled chicken cutlets or turkey burgers.
Many homemade macaroni and cheese recipes call for you to bake it into a casserole before spooning it onto plates, which adds 30 minutes or more to the recipe. The trick to getting this mac and cheese on the table quickly is to serve it straight from the pot.
Total Time: 20 minutes | Prep Time: 10 minutes | Serves: 4 to 6
16 ounces (1-pound box) uncooked elbow macaroni

3 tablespoons all-purpose flour

6 tablespoons butter

4 cups milk

2 cups sharp cheddar cheese

1 teaspoon dijon mustard

Kosher salt and pepper, to taste

Bring a large pot of water to boil and cook the macaroni to al dente. Drain and set aside.

In the same large pot, melt the butter over low to medium heat. Add the flour and whisk until it forms a thick paste, or roux, about 1 to 2 minutes. Do not let the roux brown.

Use the whisk to blend the mixture as you pour the milk in gradually. Stir constantly to dissolve any lumps that form, so you end up with a smooth mixture.

Use a large spoon to mix in the cheese and mustard. Stir gently to melt the cheese. As the sauce heats through, it will thicken to a creamy texture.

Season with salt and pepper to taste. You can serve it right away or allow the sauce to cook 10 minutes, stirring occasionally, to mellow the flavors.

Add the drained noodles and stir until all are coated with the cheese sauce. Spoon onto plates to serve.

References
Writer Bio
Andrea Cespedes is a professionally trained chef who has focused studies in nutrition. With more than 20 years of experience in the fitness industry, she coaches cycling and running and teaches Pilates and yoga. She is an American Council on Exercise-certified personal trainer, RYT-200 and has degrees from Princeton and Columbia University.