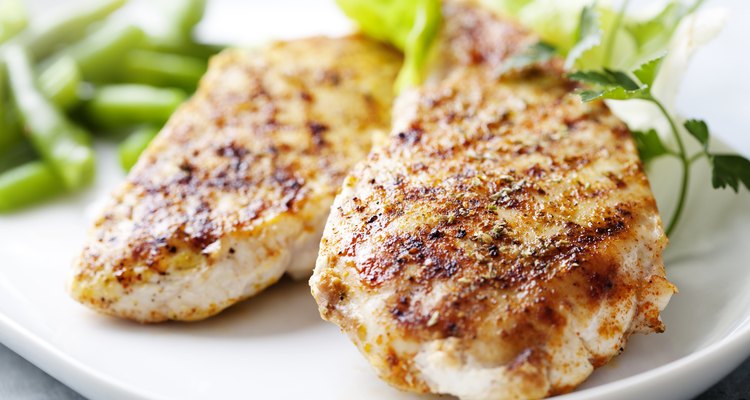 loooby/iStock/GettyImages
Dinner Isn't Ready if Your Chicken is Frozen
Nothing ruins dinner plans faster than realizing while you're at work that you forgot to take the chicken out of the freezer. But all is not lost. Before making alternative plans that involve an extra stop and a drive-thru, consider cooking your frozen chicken breast anyway. It might take a few minutes longer, but it's better than waiting in line at the drive-thru. The U.S. Department of Agriculture says it's perfectly safe to cook frozen chicken breast, but to cook the chicken 50 percent longer. This simple recipe serves as a good starting point for you to add your own flare and flavor.
Total Time: 45 minutes | Prep Time: 5 minutes | Serves: 6
2 tablespoons olive oil

6 frozen chicken breasts, without skin or bones
2 teaspoons kosher salt
1 teaspoon black pepper
Heat oven to 350F.
On an oiled baking pan, place breasts in a single layer. Overlapping the breasts may lead to uneven cooking.
Season with salt and pepper.
Bake for 30 to 40 minutes or until internal temperature is 165 degrees Fahrenheit.
With the increased cooking time, you might be worried about drying out your chicken. To keep the juices in the breast, be sure to let your chicken rest for 5 minutes after you take it out of the oven before serving it to your family. If it's too late, whip up a quick sauce by sauteing chopped onions and minced garlic in butter and then adding the drippings from your pan and a little chicken broth for more liquid. Cook until flavors are blended and pour over your cooked chicken.
References
Writer Bio
Jill Corleone is a registered dietitian and health coach who has been writing and sharing her love of food, nutrition and health with anyone who'll listen for almost 20 years. Her work has been featured on the Huffington Post, Diabetes Self-Management and Working Mother.