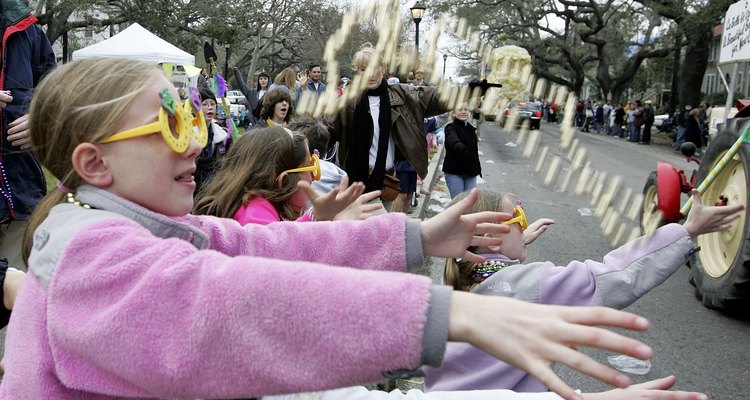 Justin Sullivan/Getty Images News/GettyImages
Have a Great Time in New Orleans at the Best Time of the Year
You're taking a trip to an amazing city, a city that has come through some of the hardest times imaginable and is still on its feet. But when should you go? We hereby make the case for springtime in NOLA!
The Seasons
Summer is sultry and humid, and the natives spend as much time as they can in air-conditioned comfort; winter is generally mild, but sudden cold snaps can and do happen. The hurricane season runs from June 1 to November 30. Early spring and late fall are often absolutely enchanting. Keep in mind, however, that spring and fall are the favorite seasons for tourists to visit New Orleans, so hotel rates go up. Unless you have made reservations far in advance, you're likely to be disappointed. To cut down on expenses, consider reserving a room, apartment or carriage house through a vacation rental agency.
Springtime in New Orleans
Springtime in New Orleans offers a host of activities for families: free live concerts in Lafayette Square (602 Camp St., New Orleans, LA) feature authentic Louisiana music; picnicking in Audubon Park (6500 Magazine St., New Orleans, LA); and wonderful food that can be found nearly everywhere in the city just by taking a stroll. Close your eyes and you can almost taste the deceptively simple beignet—who knew fried dough and sugar could be so heavenly? And then there's gumbo, jambalaya, po' boys at the Parkway Bakery (538 Hagan Ave., New Orleans, LA), pralines and praline pie, red beans & rice and, if the kids aren't queasy about such things, boiled crawdads.
And it just so happens that two of the most glorious festivals in America take place in New Orleans in spring: Mardi Gras and the New Orleans Jazz & Heritage Festival.
Isn't Mardi Gras Too Raunchy for Children?
Mardi Gras begins in February, when New Orleans is just turning from winter to early spring, a perfect time for a visit weather-wise. But is Mardi Gras an appropriate event for children? We hear tales of drinking and wild behavior and, of course, such things do take place. However, your children can still have a great Mardi Gras experience if you follow certain guidelines.
There's not just one big parade, there are dozens spread out over several days and run by different krewes, or organizing groups. What kid wouldn't love an atmosphere of costumed characters, beautifully constructed floats and step-dancing down the street accompanied by joyous music? Not to mention all those beads!
Many families gather along Napoleon Avenue or the Garden District portion of St. Charles Avenue. Bring along a picnic basket if you like. A few of the parades that might especially appeal to children are Endymion with its massive floats and spectacular lighting; Bacchus, which features 30 floats; and the Krewe of Barkus, which is actually a parade of dogs. Of course, every parade has something to offer and every krewe works hard to make their own contribution the most spectacular of all.
Don't bring your children into the French Quarter, however. This is where most of the adults-only activities take place. They'll have more fun elsewhere, anyway.
Use Common Sense and You'll Be Fine
Babies and toddlers are just too little, and the Mardi Gras crowds are just too big. Take the tweens and the almost-tweens, and know where they are at all times. Make sure the kids are aware of a few absolute rules: Don't run into the parade route. Don't stick anything in your mouth that has been thrown from the floats. Don't try to interact with the animals or jump on the floats.
Keep sanitizer on hand. Bring a picnic basket and snacks that won't melt in your pocket. Before you leave, pay attention to the weather report. When you reach the parade-watching spot, ascertain where the closest restroom or port-a-potty is. Don't hesitate to ask another family group about nearby facilities. With a few precautions, the whole family should have a wonderful time at Mardi Gras.
The Best Music Festival in a Great Music Town
For our money, you can't beat the New Orleans Jazz & Heritage Festival for sheer vitality, variety, musicality and fun. It usually takes place just a few weeks after Mardi Gras. Everyone has a great time, and it shows—the musicians on the bandstands, the audience jumping and jiving along, the whole place rocking. Popularly known as Jazz Fest, the festival features jazz, gospel, Cajun, zydeco, blues, R&B, rock, funk, African, Latin, Caribbean, folk and world music. It seems as though musical traditions from just about everywhere meet and mix in this event. The festival lasts several days, each one of them filled with music, food, folklore, marketplaces, exhibits, arts and crafts booths, workshops and more, all on the 145-acre Fair Grounds Race Course (1751 Gentilly Blvd., New Orleans, LA).
But is it kid-friendly? It's certainly an exuberant and generally lighthearted crowd. It's also a very large crowd—the record for a single day's attendance is an astounding 160,000 music lovers. Even though the festival is well organized, it could easily be overwhelming for a very small child. So once again, use common sense. The pre-tweens and tweens will have a splendid time, but do keep track of them. There is so much going on all at once that a kid might be tempted to wander off to the next stage, and then the next, and so on. The festival's website offers a ton of information, and as the date grows near, additional info is posted, including the schedule of artists, special events, cultural and historical exhibits, and culinary offerings.
Take a Little Trip Off the Beaten [Parade] Path
After the thrill of watching the parades of Mardi Gras, your kids will probably be asking a lot of questions. The place to go for answers is Blaine Kern's Mardi Gras World (1380 Port of New Orleans Pl., New Orleans, LA). This is the huge studio where Mardi Gras floats are constructed and stored. Seeing these floats close-up is truly awesome. Tours are conducted by knowledgeable guides who inform visitors about the history and culture of Mardi Gras and follow up with pieces of king cake for all. Kids will also enjoy all 100 hands-on exhibits at the Louisiana Children's Museum (420 Julia St., New Orleans, LA). It's 30,000 square feet of interactive fun where they can role play being tugboat captains and anchorwomen, too. So much creativity and imagination go into making both Mardi Gras and Jazz Fest magical every single year. Perhaps your children will be inspired to make their own kind of magic.
References
Writer Bio
Judith loves cats, books, and road trips with her husband. She was born in rural Indiana, studied English Literature at the University of Chicago, and has lived in Chicago, Boston, Deerfield, MA and now Louisville, KY. She owned a bookstore for several years and is a past-president of the Mass. & RI Antiquarian Booksellers. She edits novels and stories, and makes pictures which have been shown in galleries and juried shows. She loves to write, and her motto is "stay curious."