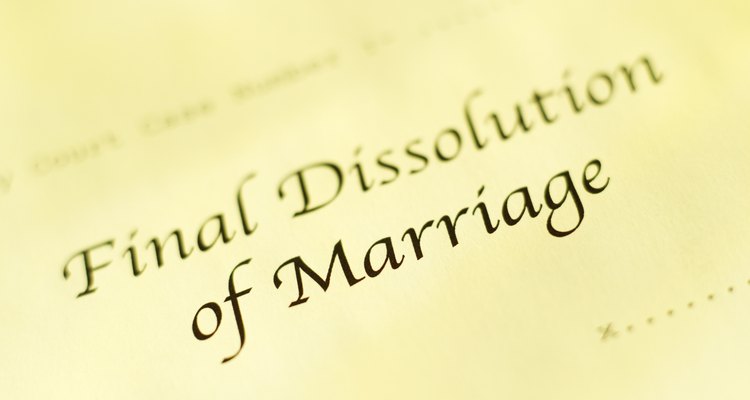 Stockbyte/Stockbyte/Getty Images
According to information from the Centers for Disease Control and Prevention, the divorce and annulment rate in 2009 was 3.5 divorces for every 1,000 people in the U.S. population. Though divorce is culturally prevalent in the United States, its negative economic and health effects on families are often felt for many years.
Economic
Divorce has many economic disadvantages, both on the personal and national level. A study conducted by four family and marriage advocacy organizations suggests that divorce and family fragmentation costs American taxpayers more than $112 billion every year. The legal process of divorce itself can cost thousands of dollars, not to mention additional legal costs to enforce the divorce settlement agreement in some situations. Furthermore, both men and women suffer financially after a divorce, though women incur the most financial strain with an average 30 percent decline in their standard of living, as reported by Pamela J. Smock in her demography, "The Economic Costs of Marital Disruption for Young Women over the Past Two Decades."
Well-Being
The effects of divorce reach far beyond money. There are many health consequences related to divorce that can affect a fragmented family both mentally and physically. Studies published in the "American Journal of Sociology" and the "Journal of Marriage and the Family" suggest that divorced men in most developed countries have twice the premature mortality rate of married men, and divorced women are also more likely to die at an early age than married women. Additionally, the years following a divorce present a greater risk of depression and other mental health disorders.
Children
The effects of divorce on children depend on the age of the child at the time of the divorce. According to the University of New Hampshire, infants and toddlers seem to experience the fewest effects from a parent's divorce, though many may experience appetite suppression or moodiness. Children older than 3, however, have greater difficulty adjusting to the separation and might believe that they are somehow responsible for their parents' divorce. Both elementary-aged children and adolescents might act out with anger or suffer from mental anguish or depression. Some might experience divided loyalty between their divorced parents.
Helping Children Adjust
Parents can do a lot to help their children adjust to divorce. Ex-spouses should minimize their conflict and avoid speaking negatively of each other in front of their children. Talking with children about the effects of the divorce might help alleviate fears of the future and reassure insecure children of their innocence in causing their parents' separation. Some children might need counseling or help from a support group. Though divorced adults are no longer married, they remain co-parents to their children and should do their best to maintain consistency in discipline and school involvement.
References
Writer Bio
Allison Westbrook is an experienced writer of three years with a passion for creating relevant articles for a wide readership. She attended Kilgore College and majored in English. Allison's articles have appeared on such websites as eHow and Trails.com. Her reflective writing angles deliver focused and consistent content.
Photo Credits
Stockbyte/Stockbyte/Getty Images