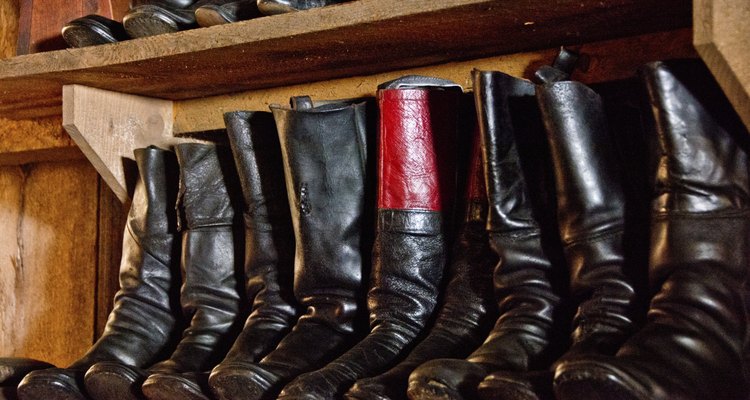 ErikaMitchell/iStock/Getty Images
Leather boots that extend to the calf and beyond come in a variety of shapes and styles for both men and women. But if you're having trouble pulling up your brand new riding boots or it's painful zipping your stiletto knee-high stunners, explore some clever calf-stretching techniques.
Wear a pair of thick socks to stretch out the leather. Put on a pair of cushioned socks while wearing your boots at home. Leather is pliable and forms to shape. although some types of leather are stiffer than others. Assess the pliability of your leather and the amount of stretch you need, then adjust the thickness of your socks accordingly. If you have very stiff boots that need a lot of stretch, double up your hosiery.
Do what the professionals do. Mix equal parts rubbing alcohol and water, place the mixture in a spray bottle, then lightly spray the insides of the boots. Shoemakers use this same mixture to stretch leather goods. Slip them on immediately to loosen them up and fit to your form. Repeat this process until you get the results you desire.
Buy a leather shoe-stretching spray from a shoe store, shoe repair shop or other retailer. These products are specially designed to permanently stretch leather shoes, boots and gloves. Just spray the insides of the boots and wear them right away. Be careful with lighter shades of leather, however, because they may discolor.
Visit a shoe repair shop if you've tried various methods and are still not getting optimal results. A shoe repair professional has special mechanical stretching devices and will be knowledgeable about different types of leather. If your boot needs considerable stretching, head to the shoe repair shop first and pay a nominal fee.
Store your boots properly. Stuff the shafts with newspaper or a rolled up towel. This may work if your boots only need a tiny bit of stretch or you are storing boots after breaking them in.
References
Writer Bio
Hilary White is a professional writer and editor based in San Diego. White has been writing articles on fashion, style, fitness, nutrition, movies and entertainment since 1994. Her articles have been published in "Westways" magazine, "Pages" magazine, "Book Street USA," "Magill's Cinema Annual," and numerous titles from Visible Ink Press. White holds a bachelor's degree in English from Michigan State University.
Photo Credits
ErikaMitchell/iStock/Getty Images