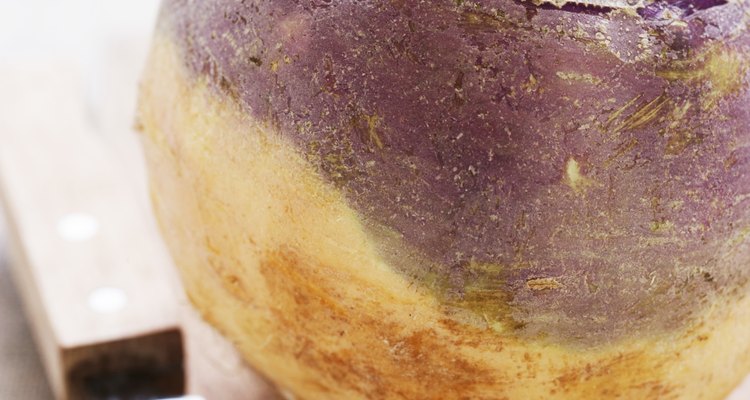 Martin Poole/Digital Vision/Getty Images
The humble turnip, while sometimes overlooked as a root vegetable, has a long history as a substantial food source. Turnip greens are common in the South, but the turnip itself is perfect with a juicy pot roast as it soaks up the flavor of the meat and spices. Turnips are also rich in vitamin A, beta-carotene and multiple other vitamins and minerals while being low in calories, to give it just one more reason to incorporate it into a meal. You can use a slow cooker or Dutch oven to cook the turnips and roast.
Step 1
Chop the turnip into large chunks and place in the bottom of a slow cooker or Dutch oven. If you want to add other root vegetables such as carrots, onions, or potatoes, chop those and mix in with the turnip pieces. Season with salt and pepper.
Step 2
Brown the roast in a skillet with a small amount of oil before adding it to the Dutch oven or slow cooker.
Step 3
Place the roast on top of the vegetables and season again with salt and pepper. Be liberal with the salt on the roast, as it helps keep the meat tender and juicy while cooking.
Step 4
Add beef broth or red wine to the pot roast and turnips by pouring it over the roast so it seeps over the vegetables as well. You don't need too much liquid, just enough to pour on the meat and come about halfway up on the vegetables.
Step 5
Place the lid on your slow cooker or Dutch oven. Turnips and the pot roast should be cooked for about 8 hours on low in a slow cooker or for an hour per pound in the oven at 275 degrees Fahrenheit for a Dutch-oven pot roast.
Step 6
Turn the liquid left in the pot into a gravy by adding it to a skillet with water and flour if you desire. If you'd rather save time, just pour a little of the juice over the roast and turnips before serving for juicy flavor.
References
The Essential Root Vegetable Cookbook; Sally Martin Stone
The Pressured Cook; Lorna J. Sass
The Ultimate Southern Living Cookbook; Editors of Southern Living
The Pioneer Woman Cooks: Ree Drummond
Tips
Try using a blend of both beef broth and red wine for extra flavor in your turnips and pot roast.
Rutabagas pair deliciously with pot roast and turnips as an alternative to potatoes.
Writer Bio
Melissa Hamilton began writing professionally in 2007. She has enjoyed cooking creatively in the kitchen from a young age. In addition to writing cooking articles for various publications, she currently works in the restaurant industry as a food and beverage trainer.
Photo Credits
Martin Poole/Digital Vision/Getty Images