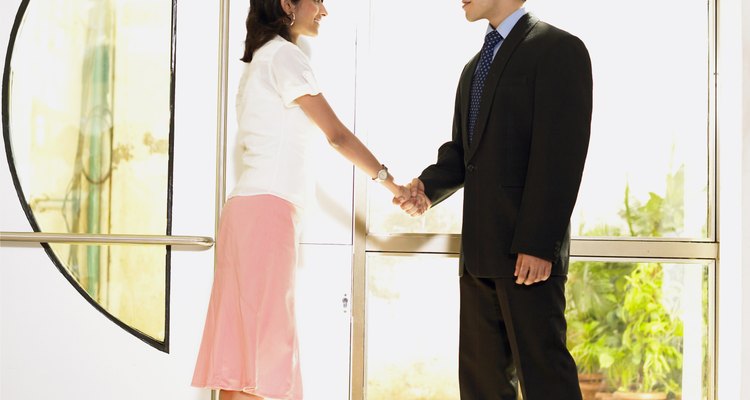 Visage/Stockbyte/Getty Images
Your ability to build trust and credibility is crucial to maintaining relationships. Lack of credibility -- how believable your are -- can cause others to withhold trust. Lack of trust in a business relationship costs you customers and diminishes your ability to work with coworkers. In personal life, lack of trust can kill a relationship. Building trust and credibility is a daily process, according to Nan S. Russell, workplace consultant, in a Psychology Today article, "The Dimmer-Switch Approach to Trust Building."
First Impressions
Create a good first impression by being honest. In a business relationship, be who you say you are on your resume. Only make claims that you can back up. In a personal relationship, be authentic in your dating profile and when you meet someone. It's easier to continue building trust if you never break it. Once you lie, fail to show up when you say you will or break a promise, the damage is done. You will be written off as untrustworthy.
Demonstrate Character
Demonstrate honorable and authentic character, advises the MindTools site in the article, "Establishing Credibility." Tell the truth, keep confidences, do the right thing every time and be dependable. Never violate your core values in the name of necessity, gain or convenience. Some examples of values that inspire trust and credibility include integrity, authenticity, honesty and a willingness to admit when you are wrong. If you waffle, your credibility will nosedive.
Communication Strategies
Your communication style can build your credibility, according to Joan Lloyd, executive coach and leadership development strategist, writing for JobDig. Speak in a straightforward, concise and clear manner. Say what you know and be clear about what you don't. Actively listen to others and take their input into consideration when making decisions. Keep your promises or let others know as early as possible when you cannot keep a promise. Listen and respond to others to demonstrate your willingness to consider their concerns and ideas.
Damage Control
Unforeseen circumstances can cause your plans to fall through. Apologize when you cannot fulfill a promise or meet an obligation. Don't lay blame to avoid the consequences of a poor choice. Take personal responsibility for your part and work toward a solution to the problem. Admitting your shortcomings boosts your credibility, according to the Parlay International article, "Building Trust and Credibility With Others."
References
Writer Bio
Rev. Kathryn Rateliff Barr has taught birth, parenting, vaccinations and alternative medicine classes since 1994. She is a pastoral family counselor and has parented birth, step, adopted and foster children. She holds bachelor's degrees in English and history from Centenary College of Louisiana. Studies include midwifery, naturopathy and other alternative therapies.
Photo Credits
Visage/Stockbyte/Getty Images