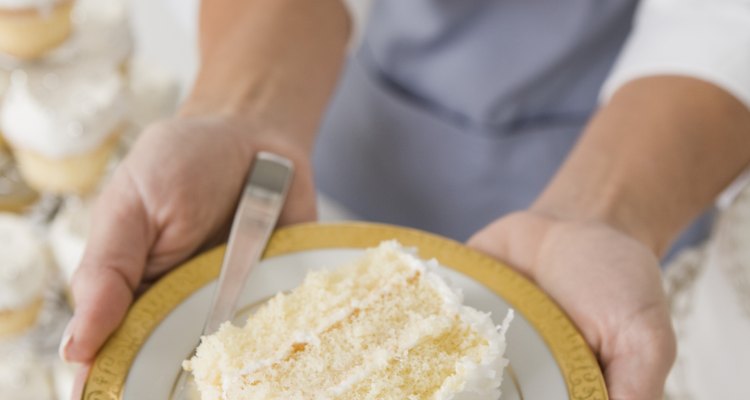 Dynamic Graphics/Creatas/Getty Images
For a delicious dessert in a hurry, few things beat starting with a cake mix. The upside to a boxed cake mix is that it gives the same results every time; the downside is that consistency can lead to monotony. One way to expand the variety of cake-mix desserts is to substitute fruit juice for water or other liquids. Turn a time-saving cake mix into a signature dessert with a few tweaks.
Baking With Fruit Juices
In general, substituting juice for water in cake mix does not have visible effects. Because most juices add sugar to the batter, you may find the cake layers brown more quickly and more darkly than when the batter is made with water. Some juices, like mango, guava and apricot, are most often available in nectar form, that is, with a high proportion of fruit pulp included in the juice. Used full-strength, nectars have the potential to make a cake slightly more dense and heavy in texture than a water- or juice-based batter. Diluting nectars by one-half with water lessens this possibility while still providing good fruit flavor.
Orange Juice
Some recipes suggest substituting all or part of the water called for by cake mix with orange juice. Old-fashioned sunshine cake can be modernized with yellow cake mix, fresh orange juice and a grating of orange zest. Use fresh orange juice or reconstitute frozen orange juice concentrate to turn angel cake mix into orange angel sponge. An elegant twist for a special occasion is chocolate cake mix made with orange juice. Coarse-grated fresh orange zest or decorative strips of candied citrus peel on the frosting make this cake a festive ending to a celebratory meal.
Lemon or Lime Juice
Intense and tart, lemon and lime are best diluted with plenty of water, with as much as 6 parts water to 1 part juice. For example, 1/8 to 1/4 cup lemon or lime juice in 1 cup of water will create a strong citrus flavor. Using more than this may compromise the sweetening ability of the sugar in the cake mix, making your cake tart or bitter. If you want a sweet cake, you can try lemon or lime juice in the form of concentrated, sweetened lemon- or limeade. Topping the cake with a juice-based glaze is another way to intensify fruit flavor. Lemon adapts well to angel, layer and Bundt-style pound cake mixes.
Apple Juice
Milder in flavor than most citrus, apple juice is used full-strength or in the form of cider as a water substitute. In a white or yellow cake, grated apple in addition to juice creates a fruity flavor. Apple juice, apple cider, grated fresh apple or applesauce intensify the flavors of spice cake, carrot cake or gingerbread cake mixes.
Tropical Juices
Create a variation on sunshine cake with tropical juices like pineapple, mango, apricot and guava. Substituted for part or all of the water, these juices will produce distinctly flavored cakes that welcome other tropical ingredients, like lime zest, shredded coconut and slivered nuts as toppings. A spoonful of lemon or lime juice or rum flavoring adds further depth to tropical sweetness.
Special Effects
Richly colored fruit juices, like cherry or blueberry, present an opportunity to combine dramatic color change with flavor change. Not all red or purple fruit juices cook true to color, as is the case with strawberries. Experiment with deeply pigmented juices before serving those cakes for a special occasion.
References
Resources
Writer Bio
Janet Beal has written for various websites, covering a variety of topics, including gardening, home, child development and cultural issues. Her work has appeared on early childhood education and consumer education websites. She has a Bachelor of Arts in English from Harvard University and a Master of Science in early childhood education from the College of New Rochelle.
Photo Credits
Dynamic Graphics/Creatas/Getty Images