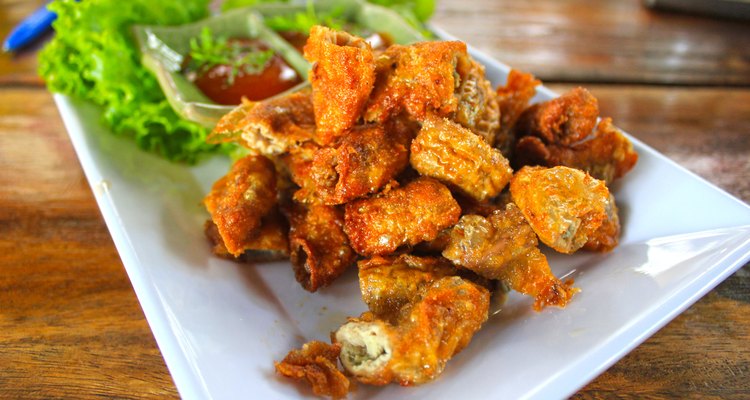 TataeAndBoom/iStock/Getty Images
Pork intestines may not sound like the most appetizing food, but they are a specialty dish in Asian, Eastern European and African-American cuisines, among others. Chitterlings, often pronounced "chitlins," is one of more common pork intestine dishes in American restaurants. Because of the high water content, pork intestines shrink down to around a third of their original weight during cooking. Their watery nature also means you don't need to add much in the way of stock or liquid. Because intestines are tough, and rubbery they need a long cooking time to soften.
Untangled the intestine strands and turn each one inside out with your hands.
Wash each intestine thoroughly under cool, running water. Pick out any little bits of debris, dried blood or matter from both outside and inside each intestine. It's important to get rid of any bits that could contain harmful bacteria.
Place the onions, peppers, garlic cloves and celery in a large pot.
Pour the apple cider vinegar over the ingredients in the pot, and add the salt and pepper then the clean chitterlings. Cover the ingredients with water, and bring it to a boil.
Simmer the ingredients for up to 2.5 hours, or until the intestines are soft. For larger batches, you may need 4 hours or more.
References
Tips
Drizzle a little water over the intestines if the mixture becomes too dry or sticks to the pan base.
Fry pieces of the boiled intestines after cooking for a crispy twist on chitterlings. However, this add a lot of fat to the dish.
Warnings
Intestines must be bought fresh. Old and smelly intestines may contain harmful bacteria.
Eat cooked intestines soon after they're ready. They don't keep well.
Writer Bio
Based near London, U.K., Peter Mitchell has been a journalist and copywriter for over eight years. Credits include stories for "The Guardian" and the BBC. Mitchell is an experienced player and coach for basketball and soccer teams, and has written articles on nutrition, health and fitness. He has a First Class Bachelor of Arts (Hons.) from Bristol University.
Photo Credits
TataeAndBoom/iStock/Getty Images