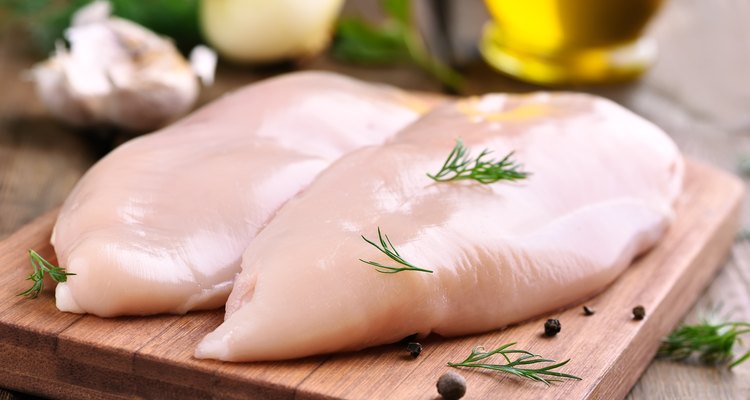 voltan1/iStock/Getty Images
Capons are male chickens that have been surgically altered. They are prized for the slightly larger amount of tender breast meat they contain. Traditionally, making roast capon is a holiday treat, but there's no reason not to serve them anytime. Starting at a higher temperature when you roast a capon helps raise the temperature quickly, which allows the meat inside to cook faster and not dry out. Roasting capon chickens slowly ensures that the end result will be tender and moist.
Preheat your oven to 450 degrees Fahrenheit.
Coat a roasting pan and the rack that fits inside of it with nonstick cooking spray.
Remove the giblets from your capon and rinse it well, inside and out, with cool water.
Pat the capon dry with paper towels and place it in the roasting pan, on the oiled rack.
Smear softened, unsalted butter all over the capon with your hands. Make the coating a little thicker on the drumsticks and wings because they tend to brown faster than the breast.
Sprinkle poultry seasoning all over the capon, and turn the bird breast down on the baking rack. Be careful; it's going to be slippery and you don't want it getting away from you.
Pour a small glass of white wine over the capon, and add an equal amount of water to the roasting pan.
Roast the capon for 20 minutes and then remove the roasting pan from the oven.
Insert a fork into each side of the capon just above the wings and turn the capon so that it is breast side up. Work slowly and with care so you don't either splatter yourself with hot chicken juice or lose control of the capon.
Put the roasting pan back in the oven and continue roasting the capon for about two hours, Basting it occasionally with the pan juices. The capon is done when it is golden-brown and an instant-read thermometer inserted into the breast reads 165 degrees Fahrenheit.
References
Resources
Writer Bio
Brynne Chandler raised three children alone while travelling, remodeling old homes, taking classes at the Unioversity of California Northridge and enjoying a successful career writing TV Animation. Her passions include cooking, tinkering, decorating and muscle cars. Brynne has been writing fun and informative non-fiction articles for almost a decade. She is hard at work on her first cookbook, which combines healthy eating with science-based natural remedies.
Photo Credits
voltan1/iStock/Getty Images