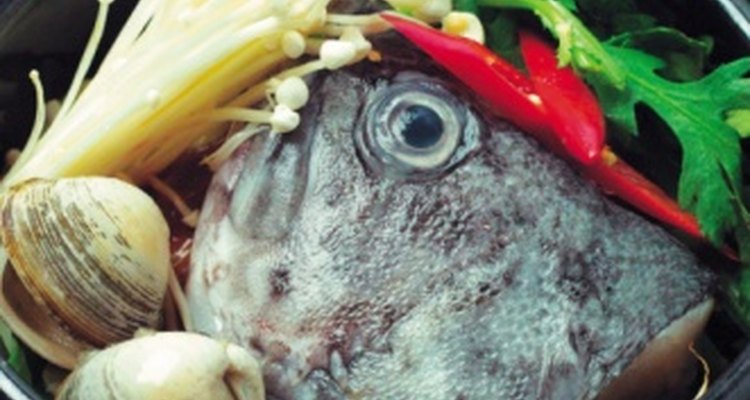 Photos.com/Photos.com/Getty Images
Fish head are probably not on most Americans' favorite food list. Many countries, however, eat fish heads with gusto. Some cultures eat fish heads simply because they find the cheeks to be absolutely delicious. Fish heads are used by some for medicinal purposes, including treating headaches and curing tooth decay. You may boil the fish heads in plain water to cook them, but a tasty soup with Asian ingredients would be a more palatable way to go.
Heat the sesame oil in a large soup pot over medium heat. Add the onion, red pepper and mushrooms to the oil. Saute the vegetables for three minutes, or until fragrant and slightly tender.
Add the garlic, ginger and red chili to the vegetables. Saute for 30 seconds.
Pour the stock into the pot with the vegetables. Stir to combine.
Gently lower the fish heads into the soup. Add the cabbage, salt and white pepper.
Bring the soup to a boil over high heat, then reduce the heat to low. Cover the pot with a tight-fitting lid and cook for about 30 minutes, or until the fish head meat is cooked through. Serve hot.
References
"A Tradition of Soup: Flavors from China's Pearl River Delta"; Teresa M. Chen et al.; 2009
"Cure Tooth Decay: Remineralize Cavities and Repair Your Teeth Naturally with Good Food"; Ramiel Nagel et al.; 2010
"The Chinese Soup Kitchen"; John Mak; 2007
"The Food of Asia"; Kong Foong Ling; 2002
Tips
All soft parts of the fish head are edible, including the eyes.
Purchase fish heads at fish markets. They usually cost a fraction of what a whole fish costs.
Writer Bio
Sarah Bourque has been a freelance writer since 2006 and is based in the Pacific Northwest. She writes and edits for the local publisher, Pacific Crest Imprint and has written for several online content sites. Her work recently appeared in "The Goldendale Tourism and Economic Development Magazine" and "Sail the Gorge!" magazine. She attended Portland Community College where she studied psychology.
Photo Credits
Photos.com/Photos.com/Getty Images