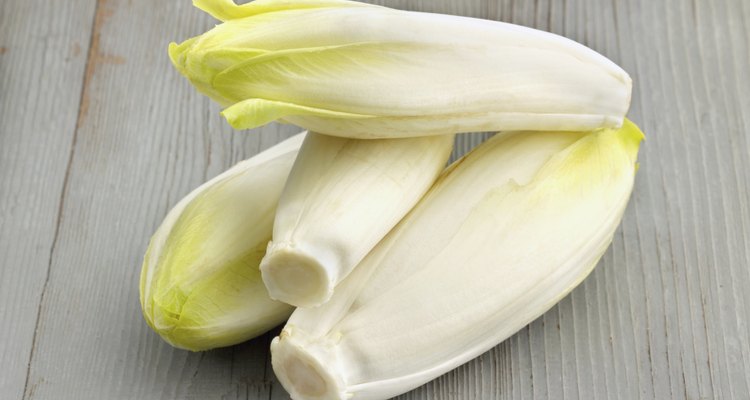 ClaudioVentrella/iStock/Getty Images
Endive, a member of the chicory family of plants, brings a sharp or bitter taste sensation to appetizers and salads. Growers and grocers often include escarole, also a type of chicory, in their definition of endive. Whichever name you call it, several varieties of endive – when cooked -- add interesting texture and new flavor profiles to the dinner plate. As low-calorie salad greens are jazzed up with simple cooking methods, endives expand the options for including vegetables in a healthy diet.
Seared Belgian Endive
Rinse off four to six heads of Belgian endive, also known as Brussels witloof. Cut each head in half lengthwise. Keep the stem end intact to hold the tightly clustered leaves together.
Set the skillet on a burner turned to medium. Add 1 to 1 ½ tbsp. water and heat until steam begins to rise. Add the endive halves, cut side down, into the pan. Cover immediately with a lid and cook for 4 minutes.
Lift the lid to check that the endives have turned soft and semitransparent. If necessary, cover with the lid and sear for another minute or two. Lift the endives out of the pan, arrange on a platter and dress with freshly squeezed lemon or lime, a scant pinch of salt or salt substitute, fresh ground pepper to taste and a tablespoon of chopped fresh herbs.
Sauteed Curly Endive
Tear the leaves off a large head of curly endive, also known as frisee. Place the leaves in a large bowl of cold water and swish around, allowing any dirt or grit to sink to the bottom. Lift the endive out of the bowl and place in a colander to strain for half an hour.
Heat 2 tbsp. olive oil, sesame oil or canola oil in a heavy frying pan or skillet set at medium-high. Place half the drained endive in the hot oil using tongs to avoid splatters. Lightly toss leaves until they are wilted, remove with tongs, and cover with a lid.
Place the second half of the escarole in the pan, tossing until wilted. Add to the first batch, top with toasted sesame seeds or nuts, a lightly sweet vinaigrette or a squeeze of lemon juice.
Stir-Fried Escarole
Cut the core-like stem out of a head of escarole, a form of chicory with thick, broad leaves, that is also known as Batavian endive. Wash the leaves under cool running water and set in a colander or on a towel to dry. Chop the leaves and stems into pieces roughly 2 inches square.
Boil 1 to 1 1/2 qt. of water in a large pot. When the water has reached a rolling boil, dump the escarole for 2 minutes, stirring once or twice as the stems soften. Lift the escarole out with a slotted spoon onto a plate and transfer to the colander where you may leave it to drain for up to an hour.
Add 1 to 1 ½ tbsp. canola oil or olive oil to a heavy frying pan and heat to medium-high. Spoon the blanched endive in the pan and stir frequently to saute for up to three minutes. Add ½ tsp. finely minced garlic, or pepper flakes, or a sweet component such as dried currants or raisins to the pan during the last minute of sauteing.
References
Tips
Visit farmers markets to find fresh-picked endive or check your grocer's specialty produce market for recently harvested endive and escarole.
Writer Bio
Denise Schoonhoven has worked in the fields of acoustics, biomedical products, electric cable heating and marketing communications. She studied at Newbold College and Middlesex Polytechnic in the UK, and Walla Walla University. A writer since 2008, Schoonhoven is a seasoned business traveler, solo tourist, gardener and home renovator.
Photo Credits
ClaudioVentrella/iStock/Getty Images