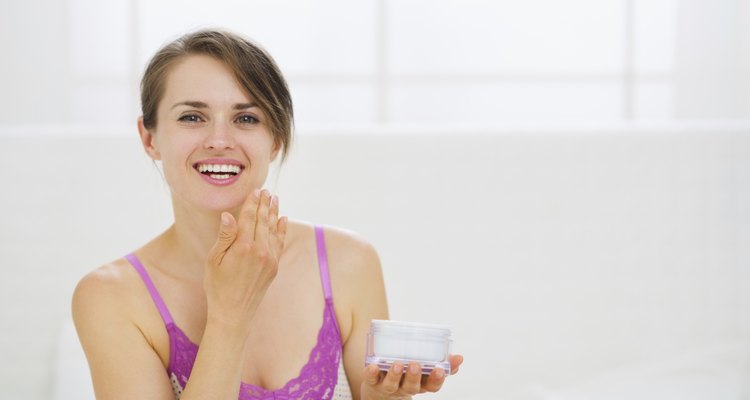 Alliance/iStock/Getty Images
Those dark spots left on the skin after acne lesions heal are known as postinflammatory hyperpigmentation. When dead skin and excess oil clog the pores, the follicular walls bulge and inflammation sets in along the surrounding skin, causing papules, pustules or cysts. As the lesion heals, most of the inflammation subsides. But any residual swelling can stimulate the production of melanin, which results in the patches of discoloration associated with PIH. If left untreated, PIH eventually resolves itself. However, treatments are available to encourage faster recovery.
Apply topical hydroquinone directly onto the dark spots to break up the melanin and fade postinflammatory hyperpigmentation, suggests the American Academy of Dermatology. Follow the instruction on the packaging for best results.
Massage topical retinoids into the dark spots to lessen residual inflammation and promote cellular turnover to fade PIH, advises the "Journal of Clinical and Aesthetic Dermatology." As inflammation subsides, excess melanin production slows, while the cellular turnover helps remove discolored skin cells.
Cover the dark spots with a topical corticosteroid. Much like retinoids, cortisone lessens the residual swelling, which slows the excess production of melanin and causes PIH to gradually fat. Corticosteroids are often combined with hydroquinone, retinoids or both, explains the American Academy of Dermatology.
Look for other topical skin lightening agents. Azelaic acid, kojic acid, ascorbic acid, glycolic acid, mequinol and arbutin have all shown promise in lightening skin affected by postinflammatory hyperpigmentation, asserts the "Journal of Clinical and Aesthetic Dermatology." Like any topical treatment, use these products as directed for best results.
Schedule skin rejuvenation such as microdermabrasion, dermabrasion or chemical peels. Any one of these treatments removes the surface layer of the skin, which lessens residual swelling and excess melanin in the affected area.
Expose the skin to freezing agent such as dry ice or liquid nitrogen to help break up the excess melanin and fade the area of discoloration. This is done in your dermatologist's office as an outpatient procedure.
Break up the excess melanin causing the dark spots with laser therapy. The American Academy of Dermatology explains that this type of procedure is usually reserved for more stubborn dark spots.
References
Tips
To prevent darkening, the American Osteopathic College of Dermatology recommends wearing sunscreen anytime you go outdoors. Look for sunscreens with an SPF of 30 or more.
Writer Bio
Based in Minneapolis, Minn., Dana Severson has been writing marketing materials for small-to-mid-sized businesses since 2005. Prior to this, Severson worked as a manager of business development for a marketing company, developing targeted marketing campaigns for Big G, Betty Crocker and Pillsbury, among others.
Photo Credits
Alliance/iStock/Getty Images