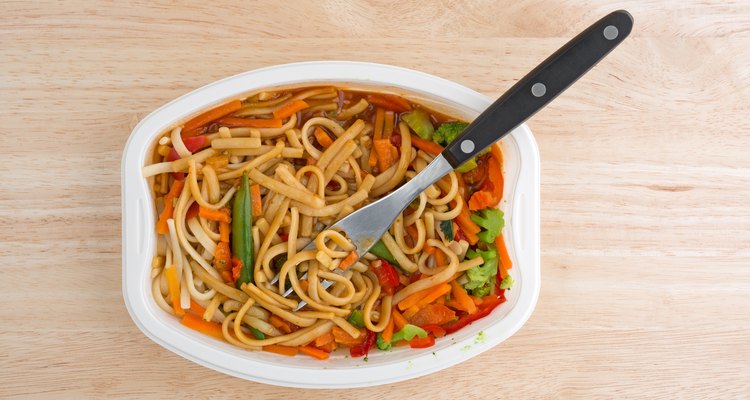 BWFolsom/iStock/GettyImages
Stay a Step Ahead of the Harmful Chemical
TV dinners are convenient but they can come with a price: BPA, or bisphenol-A, often lurks in their plastic packaging and may leak into your food when you heat your meal in the microwave. The chemical can act as an endocrine disrupter, messing with hormone levels and potentially precipitating a range of health problems. As awareness of the risks associated with exposure to BPA have grown, consumers have grown more savvy about vetting the products they buy. However, lab tests have found the chemical even in products that are marketed as safe and BPA-free, so it's useful to be especially vigilant.
Nonplastic Packaging
To ensure that your TV dinner doesn't contain BPA, buy a product that isn't packaged in plastic, even a type of plastic marked "BPA-free." Lab tests have found the chemical in packaging that specifically states that it isn't present. Even types of plastic marked 1, 2, 4 or 5, which are marketed as relatively safe for exposure to heat, have been found to leach BPA into food when heated in a microwave. Some frozen food companies have started packaging their products in cardboard rather than plastic, but even cardboard packaging may contain a plastic lining that leaches BPA into food.
Ditch the Container
You can also avoid the BPA in food packaging by transferring your microwave meal into a separate oven-safe container before heating it. Heat resistant glass and clay or stoneware work well in the microwave. Or your can move the food to a metal pan and heat your dinner in a conventional oven. This strategy will take longer and require extra planning, but it can be easily integrated into an evening routine if you preheat your oven as soon as you get home.
Homemade TV Dinners
If you're serious about avoiding packaging containing BPA but you're reluctant to pass up the convenience of frozen dinners, you can prep and package your own. This approach also allows you to customize your frozen meals to your personal tastes. Cool food thoroughly before freezing it to avoid unnecessary frost. Make main dishes and sides, and pack a serving of each together in an oven-safe container before freezing. To avoid extra cooking, simply make larger servings next time you cook, and set some aside to freeze. If you're serious about making your own frozen meals, purchase extra oven-safe dishes so you won't find yourself without while they're tied up in your freezer. This will add to the initial expense, but it'll be an important investment in your health and quality of life.
References
Resources
Tips
Look for frozen dinners packaged in cardboard containers. These brick like containers – such as those used for frozen spinach or juice boxes – do not contain BPA. The numbers on the back of plastic containers correspond to its risk of leaching BPA. Type 1 plastic is considered the safest and plastic number 7 poses the greatest risk. In general, the softer the plastic tray, the higher the chances are of BPA leaching into your food when the plastic is heated.
Warnings
Plastic containers marked on the bottom with a 1, 2, 4 or 5 were originally thought to be safe for microwaving, however, studies conducted in 2008 have found that some leaching of the chemical BPA can occur when these plastics are heated. The U.S. Food and Drug Administration has expressed concern about the negative effects of BPA levels in pregnant women, infants and small children. A 2011 study conducted by Environmental Health Perspectives confirmed that even plastics that don't contain BPA -- such as the plastic film used to cover frozen dinners -- release other estrogen-like chemicals when heated.
Writer Bio
Devra Gartenstein is a self-taught professional cook who has authored two cookbooks: "The Accidental Vegan", and "Local Bounty: Seasonal Vegan Recipes". She founded Patty Pan Cooperative, Seattle's oldest farmers market concession, and teaches regular cooking classes.