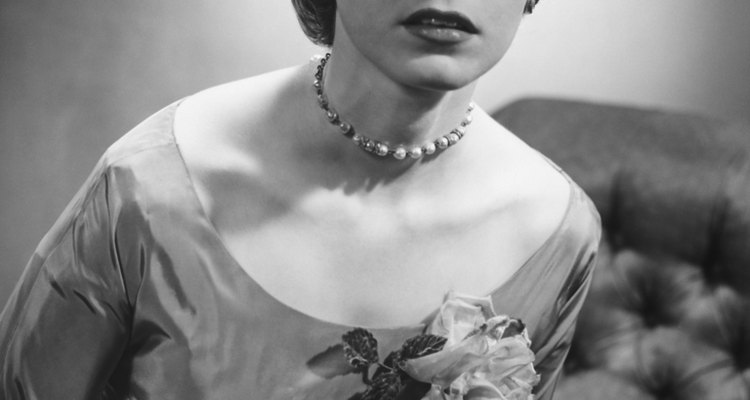 George Marks/Retrofile/Getty Images
Fabric names can be confusing since fabrics that are known by the same name, such as "taffeta," are sometimes made from different materials. Taffeta is generally considered to be a medium-weight fabric, but the weight of the fabric can vary. When made out of nylon or silk, it is sometimes lightweight; and when made of wool, it can be considered a heavyweight fabric.
Silk
Taffeta is sometimes made of silk. When it is, the fabric is often light- to medium-weight, with silky chiffon taffeta being the lightest and softest. Silk taffeta tends to be stiff and is often used to create evening or bridal wear. If you are looking to create an article of clothing, such as a petticoat or skirt, that rustles when you move, medium-weight silk taffeta works well. Other types of silk that would be comparable to silk taffeta include charmeuse, crepe de chine, faille, georgette, moire, pongee, organdy, organza and satin.
Cotton
Though some early taffeta, made centuries ago by the Persians, was made from cotton linen, today's taffeta is not usually made from cotton. However, cotton is a term, like taffeta, that encompasses a range of fabric blends and options. Medium-weight cottons such as batiste, broadcloth, calico, cambric, chambray, muslin, percale and flannel are comparable to medium-weight taffeta. Lawn, linen, madras, nainsook, oxford and voile compare favorably to lightweight taffeta. Cottons such as denim and chino would be considered comparable to the heavier-weighted types of taffeta.
Wool
The term "wool" encompasses a variety of blends and weaves. Taffeta is sometimes made from wool. In these instances, it is woven, and its thickness and weight depends upon how close together the weaving is. Some wool taffeta is woven by hand, and this is considered its most desirable form. Fabrics comparable in weight to heavyweight wool taffeta include burlap, butcher's linen, canvas, tweed, matelasse, melton and ottoman. When wool taffeta is thinner and of a medium weight, it is comparable to wool gabardine.
Nylon and Other Man-Made Fabrics
Taffeta is not always made from natural fibers such as silk and wool. Nylon and polyester taffeta are also created, often used for linings, especially when insulating jackets, vests and coats. When extreme durability and weatherproofing are necessary, a heavyweight fabric combining nylon taffeta with a backing of PVC can be used for lining bags and purses and creating storage covers. The more usual nylon or polyester version of taffeta is lightweight and comparable to other man-made fabrics such as rayon, viscose, parachute fabric, modal, lyocell and jersey.
References
Photo Credits
George Marks/Retrofile/Getty Images