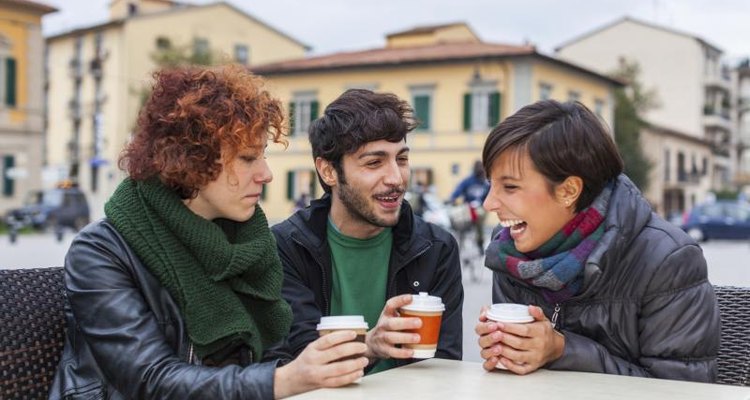 william87/iStock/Getty Images
You think that the spark between the two of you is palpable, but at the same time you're not sure if you're on an actual date. When you first get together with a potential romantic partner, confusion about whether you're on a date or just hanging out is common. Sixty-nine percent of 18-to-59-year-olds reported feeling this ambiguity in a survey by USA Today. Knowing the differences can prevent miscommunication and save you from embarrassment or disappointment.
You're a Bud or Pal
If the "date" in question is treating you like one of his best buds, it's more likely that you're just hanging out. This doesn't mean that he's sharing with and confiding in you in the same way that he would with his friends. Instead, he's treating you like one of the guys. For example, he calls you "dude" or "man" or even asks you along with him and his friends to casually hang at one of his other bud's houses. On top of talking to you in a totally platonic way, the complete lack of any romantic overture may indicate that you're not on a date.
The Ask
Not knowing if it's a date or just hanging out begins at the ask. Whether you're going on an actual date or casually chilling together, the other person has to in some way ask. Keep in mind that not everyone uses a direct approach or comes right out and says, "Do you want to go on a date with me?" If the other person wants to date you, but is unsure or anxious, she may use an indirect approach, notes doctor of social and personality psychology Jeremy Nicholson on the website Psychology Today. For example, she may ask what you're doing on Saturday night and then suggest that she join you. Given that the murky waters of the ask are complicated at times, pay more attention to how she's saying it and not what she's saying. If she's flirty or nervous, it's more likely that she's asking you out on a date.
Family Factor
For some groups of people, meeting the other person's family is a sign that they are dating, according to the article "Conventions of Courtship: Gender and Race Differences in the Significance of Dating Rituals" in the Journal of Family Issues. If the guy that you're unsure about asks you to dinner with his parents or wants you to meet his sister, it's likely that the two of you are dating. If you meet his family, but it's more of a casual coincidence or his parents happen to stop by when you're at his apartment, you may just be hanging out.
Romantic Relationship
If you're just friends or hanging out, you won't go through the same stages that you will in a developing relationship. When you first start dating, you may both feel a sense of infatuation or need to see each other all of the time. If this beginning electricity isn't there, you probably have something more casual than a budding romance. This may mean that there's no physical affection or that there's no real intimacy between the two of you.
References
Writer Bio
Based in Pittsburgh, Erica Loop has been writing education, child development and parenting articles since 2009. Her articles have appeared in "Pittsburgh Parent Magazine" and the website PBS Parents. She has a Master of Science in applied developmental psychology from the University of Pittsburgh's School of Education.
Photo Credits
william87/iStock/Getty Images