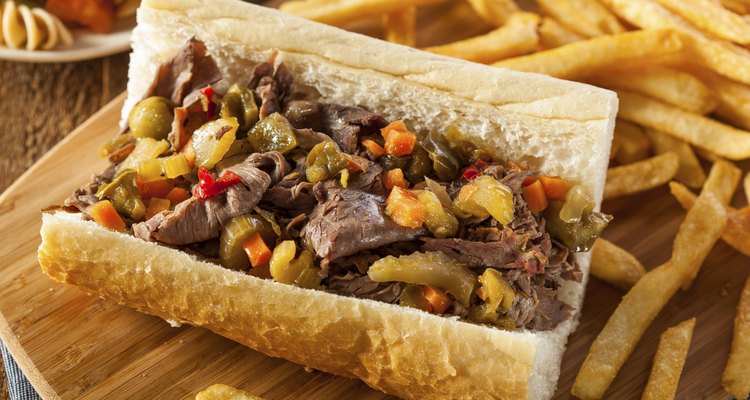 bhofack2/iStock/Getty Images
You don't needs a culinary history lesson when you want to create something as magnificent as an Italian beef, so suffice it to say it's Chicago through and through. The balance of flavors make the dish special, with sweet Italian friggitelli peppers playing nice with pungent pickled giardiniera paired with them. Making the most of sweet Italian peppers is easy: Roast them slowly in a low-temperature oven to reduce their naturally present sugars.
Heat the oven to 350 degrees Fahrenheit. Scrub the friggitelli under swiftly running water using a vegetable brush for 2 to 3 minutes. Frigatelli often have been coated with wax to increase their shelf life.
Wipe the peppers dry with paper towels. Place the peppers on a sheet pan and set them on the center oven rack.
Roast the friggitelli until they appear shrunken and shriveled, or for about an hour. Turn the peppers over every 15 to 20 minutes.
Take the peppers out of the oven and place them in a large bowl. Cover the bowl with a plate or plastic wrap. Let the peppers steam for 15 to 20 minutes.
Take the peppers from the bowl. Slip the skins off the peppers by hand when they are cool enough to handle. You can usually pinch any part of the skin and it will peel away in large strips.
Slice off one side of the peppers, avoiding the cluster of seeds inside. Pop out the seed cluster and stem. Trim off the white pith, or ribs, from the interior of the pepper.
Pick away any pepper seeds. Slice the peppers into 1/4-inch-wide strips to prepare them for the beef.
Tips
No friggitelli, no problem. Substitute green bell peppers for friggitelli and prepare them using the same cooking method.
Friggitelli and giardiniera are commonly added to Italian beef at room temperature. Take the giardiniera from the refrigerator and transfer the amount you will need to a bowl about 30 minutes before you make the dish.
Writer Bio
A.J. Andrews' work has appeared in Food and Wine, Fricote and "BBC Good Food." He lives in Europe where he bakes with wild yeast, milks goats for cheese and prepares for the Court of Master Sommeliers level II exam. Andrews received formal training at Le Cordon Bleu.
Photo Credits
bhofack2/iStock/Getty Images