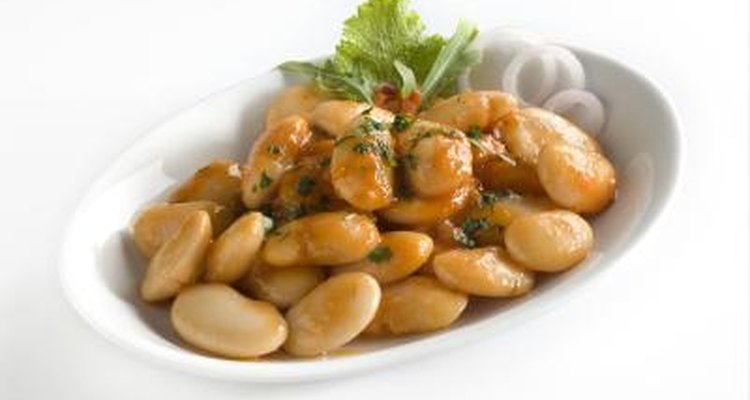 studiovd1/iStock/Getty Images
Large, white great northern beans have a mild but distinct flavor and many distinct health benefits. They're grown in the United States and are available year-round in grocery stores, both canned and dried. Many baked bean dishes call for great northern beans. They can also be used in recipes in place of any other white beans, such as cannellini beans and navy beans.
Full of Fiber
Eating great northern beans supplies you with a large portion of the dietary fiber you need daily. A 1-cup serving of the beans gives you 12 grams of fiber. According to Institute of Medicine, men under 50 years old need 38 grams of fiber per day, while men over 50 need 30 grams. Women under 50 need 25 grams, and women over 50 need 21 grams. Although dietary fiber is indigestible, it plays a role in maintaining regular digestion and preventing constipation. A high-fiber diet may also reduce your risk of heart disease, diabetes and diverticulitis, according to Harvard School of Public Health.
Protein-Packed
Incorporating more great northern beans into your diet also helps you meet your need for protein. The Institute of Medicine notes that adults need at least 0.8 grams of protein per kilogram of body weight per day. A serving of great northern beans gives you 15 grams of vegetarian protein. Your body is unable to store protein in the same way it can store carbohydrates and fats, so you must take it in daily. Getting an adequate amount of protein supports healthy muscles, skin and other organs, aids in bodily growth and repair and maintains body fluids.
Rich in Iron
If you're anemic or follow a vegan diet, eating more northern beans will supply iron you may be lacking. All men and women over 50 years old need at least 8 milligrams of iron per day, and women under 50 need at least 18 milligrams per day. A cup of northern beans gives you 4 milligrams of iron, or 22 percent to 50 percent of the iron you need daily. The hemoglobin molecule, a part of red blood cells, contains iron. It's needed to transport oxygen from your lungs to your cells. Without enough, you may feel weak, fatigued and dizzy.
Folate Source
Folate, an essential vitamin, is found in great northern beans. A 1-cup serving gives you 181 micrograms. Adults need at least 400 micrograms per day, and pregnant women need 600 micrograms. Folate is a water-soluble B vitamin that plays a role in protein metabolism, cell division and preventing anemia. According to the Office of Dietary Supplements, adequate folate intakes during pregnancy may reduce the risk of neural tube defects in infants, which are malformations of the central nervous system.
References
Writer Bio
Erica Kannall is a registered dietitian and certified health/fitness specialist with the American College of Sports Medicine. She has worked in clinical nutrition, community health, fitness, health coaching, counseling and food service. She holds a Bachelor of Science in clinical dietetics and nutrition from the University of Pittsburgh.
Photo Credits
studiovd1/iStock/Getty Images