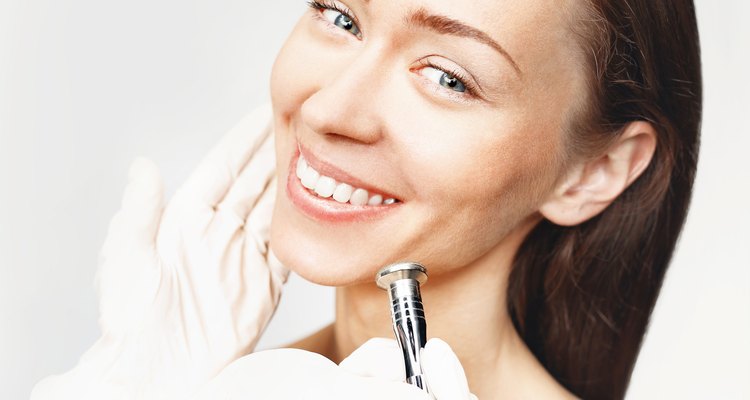 robertprzybysz/iStock/Getty Images
Skin polishing generally refers to any type of skin exfoliation. The type of exfoliation most commonly known as skin polishing is microdermabrasion, a cosmetic procedure that can improve acne, fine lines or age spots. Performed at home or in your dermatologist's office, microdermabrasion can help your skin become smoother, softer and brighter. Always consult your physician before attempting any cosmetic procedures at home.
About Microdermabrasion
Microdermabrasion is performed using a small device that blasts small crystals onto the skin; these crystals polish the skin's surface. A vacuum tube is then used to remove the crystals and dead skin cells. The purpose of microdermabrasion is to exfoliate your skin and unclog your pores, leaving your skin feeling smooth and clean. Although microdermabrasion is best performed by your dermatologist, kits can be purchased over the counter. The at-home kits are not as powerful as professional microdermabrasion procedures; however, they are less costly.
How Many Treatments and What to Expect
According to the Cleveland Clinic, one microdermabrasion procedure will take between 20 and 30 minutes. Depending on your skin's type and condition, six to 12 treatments may be necessary to achieve the desired results. The treatments occur over a span of several weeks.
Before the procedure, you will discuss the results you can expect based on your skin with your dermatologist or skin-care specialist. You will also receive instructions on how to care for your skin after treatment.
Side Effects
Microdermabrasion is a gentle treatment with minimal side effects. According to the Cleveland Clinic, you may experience some redness that disappears within an hour or so if your skin is sensitive. Other than that, no down time is necessar, and you can return to normal activities immediately.
Who Is a Candidate?
Anyone can experience the benefits of microdermabrasion as an exfoliator. According to the Cleveland Clinic, people with environmentally damaged skin, age spots, fine lines and uneven skin will see the greatest benefits from microdermabrasion. If you have deep wrinkles or acne scars, you may want to undergo a stronger procedure such as a chemical peel; microdermabrasion is effective only on the skin's surface, while chemical peels can penetrate deeper.
Cost
The cost of microdermabrasion can vary greatly, depending on several factors. The qualifications of the person performing the procedure, geographic location and the number of treatments needed are all factors that influence the cost of microdermabrasion. In 2012, the American Society of Plastic Surgeons estimated that the nationwide average fees for one microdermabrasion session was $154.
References
Writer Bio
Angela Stokes received her Master of Science in health promotion management from the American University in Washington, D.C., focusing her studies on health policy and corporate health, including prevention and wellness. Stokes also holds a Bachelor of Science in human resources management with a minor in economics.
Photo Credits
robertprzybysz/iStock/Getty Images