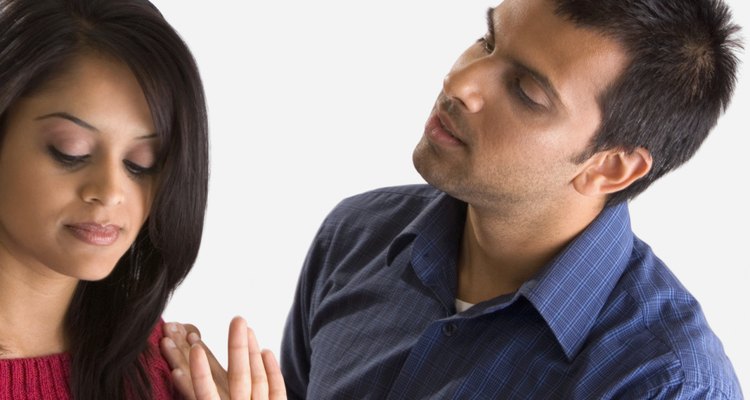 Medioimages/Photodisc/Photodisc/Getty Images
Divorce is a very traumatizing experience especially when it happens after one has already had kids and is well settled. Indeed, in The Divorce Experience: A Study of Divorce at Midlife and Beyond conducted by researcher Xenia Montenegro for the AARP, divorce is observed to be as emotionally traumatizing to a couple as experiencing a major illness. Even after one moves on and attempts to get back to the dating scene, many scars and misconceptions may be carried over by a woman that will scare away any potential guys interested in forging a romantic relationship.The following are some of the reasons men are afraid of dating a divorced mother:
Unresolved Emotional Turmoil
Many women get back to the dating scene too quickly without giving themselves time to heal adequately. According to Terri Sloane, a divorce and dating coach, dating too early after the divorce can be a problem, because the woman is still nursing unhealed wounds which need attention before they turn into bitterness, anger and damaged emotions. More specifically, female divorcees tend to experience loneliness, depression, a sense of failure, betrayal and inadequacy soon after getting. These may subsequently be imposed onto their dating relationship, whether or not the new man is at fault. For a man who is just getting to know a woman, this may just be too much to handle.
Too Much Too Soon
Divorced mothers can expect too much from their dates in regards to filling the gap by the divorced husband. One of the major areas of concern for divorced women is being financially destitute. Divorce takes away the male who handled the majority of the financial responsibilities. The new man may be legitimately afraid that the divorced mother will want them to fill the role of male figurehead and provider for both her and her children too soon.
Guarded and Overprotective
The divorced mother is quite overprotective of her children and is always sensitive to how changes will affect them. One of the greatest concerns found by Montenegro was that a significant proportion of new divorcees were very worried about the effects of the split on their children. In the initial stages of a relationship, the divorced mom may hold back on how she socializes her children with the new man she is seeing, because she fears any disruptions it may cause if things do not work out. This can result in the build-up of tension and discomfort.
The Odd Dynamics of the Divorced Family
A man involved with a divorced mother must face the issues of the interestingly different dynamics of divorced families. For starters, there is the difficulty he may face from the children who are still coming to terms with the changes in their family. They may initially reject him for fear that he is trying to replace their father. On the other hand, dating a divorced mom means having to face the ex-husband at some point or another during drop-offs or pick-ups. There is also the issue of having to arrange dates and stay-overs around a schedule of babysitting and custody. Things are not as fluid as they would be if one were seeing a single woman without such attachments.
References
Writer Bio
Latoya Newman is a novelist who wrote and published her first novel in 2012. She has a background in education, research and counseling. She taught at the elementary level for eight years, and has a Bachelor of Arts in psychology from York University in Toronto, Canada.
Photo Credits
Medioimages/Photodisc/Photodisc/Getty Images