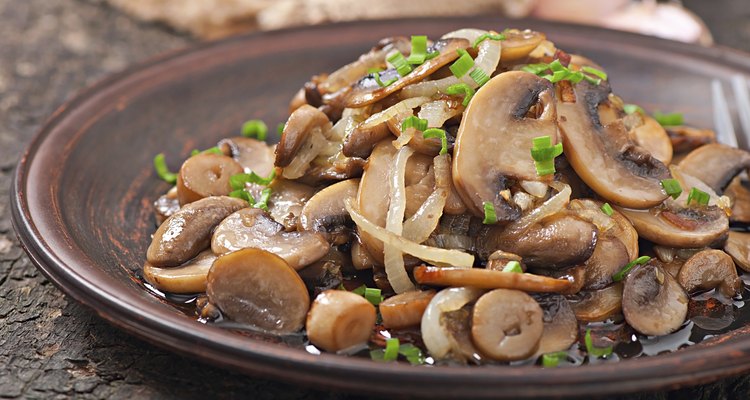 Elena_Danileiko/iStock/Getty Images
Small grilled mushrooms can be a welcome addition to a beef or chicken dish. Large mushrooms can become a main dish all on their own. If you feel like grilled mushrooms for dinner, but inclement weather will not allow you to cook outdoors, you can grill them inside using a stove-top grill or a grill pan. Grill pans are appropriate for electric or gas stoves, while most stove-top grills work best on an electric burner.
Preheat the stove-top grill or grill pan over medium to medium-high heat.
Remove the stems from the mushrooms and discard them. Brush both sides of the cap with oil and sprinkle them with salt and other spices, as recommended by your recipe.
Place the caps on the grilling surface and cook them until the surface looks dry. Brush them with oil a second time.
Flip the mushroom over when the underside is dark and seared with grill marks. This may require 5 minutes or more for thick mushrooms, such as portobellos.
Grill the other side until the mushroom has lost most of its water content. It is done when it is shrunken and tender.
References
Writer Bio
Kylene Arnold is a freelance writer who has written for a variety of print and online publications. She has acted as a copywriter and screenplay consultant for Advent Film Group and as a promotional writer for Cinnamom Bakery. She holds a Bachelor of Science in cinema and video production from Bob Jones University.
Photo Credits
Elena_Danileiko/iStock/Getty Images