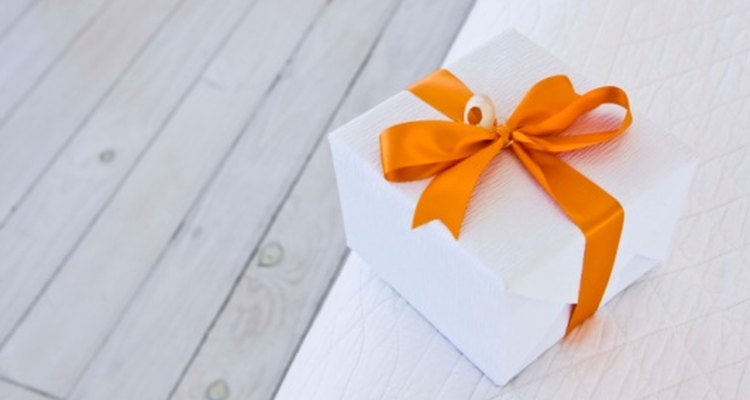 Jupiterimages/Polka Dot/Getty Images
A wedding gift card box is displayed on the gift table at the reception. Since cards may contain monetary gifts from your guests, this is a way to ensure that all of the cards are in one safe, central location. Create a three-tiered "wedding cake" card box that adds a decorative touch to the gift table. It can also serve as a keepsake after the wedding for all the memorable cards you received and want to treasure.
Purchase three round boxes with lids of varying sizes. Find these at craft stores or online (see Resources for some links). You can purchase plain white boxes or designed ones.
Cut a slit on the lid of the smallest box, using a box cutter. Make sure the slit is large enough for an average sized gift card envelope to fit through. Make slits in increasing size in the following places: bottom of the smallest box, lid of the medium-sized box, bottom of the medium-sized box, and on the lid of the largest box. When a guest slips the envelope into the lid of the smallest box, it must be able to fall through to the bottom of the largest box.
Glue the medium-sized box on top of the large box. Once it's dry, glue the smallest box on top of the medium-sized box. At each layer, make sure the slits are aligned.
Cut a piece of 2-inch ribbon that is long enough to wrap around the base of the largest box. Glue the ribbon around the base of the box. Repeat this step for the other two boxes as well. The ribbon can be in your wedding colors.
Place each of the 12 photos in the silver frames. Arrange four frames around each box and secure with double-stick adhesive tabs.
Writer Bio
Shreya Mehta graduated from the University of Massachusetts with a Bachelors degree in business administration with a double concentration in finance and MIS. She attended Bentley College to obtain a MBA in finance and Masters in IT. She has been working for a financial software company for the past three years as an associate content manager.
Photo Credits
Jupiterimages/Polka Dot/Getty Images