Items you will need
24-inch or larger straw wreath
1 stem of 5-inch focal lily or chrysanthemum with 3 to 5 flowers
1 or 2 fall leaf bushes
4 multi-flowered stems
Wire cutters
Scissors
6 to 8 feet of 3-inch-wide wired ribbon
18-inch floral wire
Glue gun, if desired
Tape
A spectacular wreath of fall foliage and flowers will bring autumn right to your door. A large straw wreath makes a sturdy foundation for this display. This wreath will be a conversation piece throughout the season and you will be proud to claim that you made it yourself. It can be made in a smaller version and easily be displayed inside your home, too.
Step 1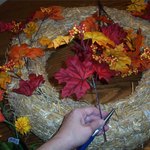 Lay wreath on work surface. Cut stems off leaf bush.
Step 2
Push leaf stem into the center part all around the wreath.
Step 3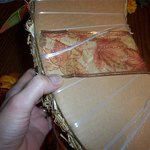 Turn wreath over. Take ribbon end and thread it under the twine that secures the straw. Tape if desired.
Step 4
Wrap ribbon around the wreath at an angle. Lift leaf stems up to keep ribbon rolling smoothly. Keep ribbon top side up.
Step 5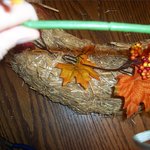 Cut the stem of the large focal blossoms to 12 inches or less. The stems can be thick so cut at the broken lines in the plastic coating. You may need to twist the wire back and forth to get it to weaken and break.
Step 6
Insert focal blossom stem into the thickness of the wreath at one side or on the bottom. Bend and position the blossoms as desired. Hang wreath on interior door so you can step back now and then to see where gaps need to be filled.
Step 7
Continue placing flower stems and leaves to get the full effect you want. Glue stems in place with glue gun if the wreath will be on a high-traffic door or is to be shipped to someone.
Step 8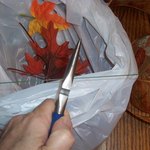 Cut 18-inch wire in half. Pick up a discarded silk flower stem piece and wrap the wire around it tightly two or three times.
Step 9
Use the wired stem to make a bow with six 5-inch long loops from wired ribbon. Shape and fluff loops. Push the wired stem at an angle into the wreath near a large focal flower. Add more leaves and flowers to fill any visible gaps on wreath. Hang it on a black wreath hanger.
Tips
Wreath can be on display from September to November, then put into storage for next year. You can add cones, nuts, plastic fruit, birds and a miniature scarecrow to wreath if desired.
Warnings
Wreath must have a weight-bearing hanger or it will fall.