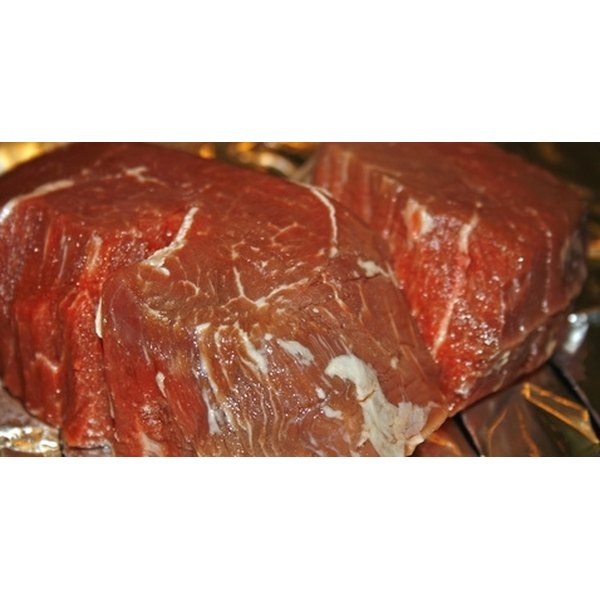 Items you will need
Beef roast
Roasting pan
Spices
Carving knife
4 garlic cloves
8 fresh sage leaves
4 tsp. salt, 4 tsp. olive oil
4 tsp. fresh thyme leaves
1 1/2 tsp. ground black pepper
Entertaining is fun. Most of the time you try and keep things simple so you can enjoy our guests and activities. You prepare simple and yummy foods like barbeque cocktail wieners, taco dip, cheese balls, and veggie pizza. Delicious and mobile, these treats can be carried around the house while guests drop in on different conversations, making way throughout the party. But there are some special times; intimate occasions where the guest list is small and you want to serve something more elaborate. A boneless beef loin, prepared with just a few simple ingredients, and served with wine, presents an elegant entrée to be enjoyed by all.
Step 1
Cook the right roast. For a party of 10 you will need a 5-lb. boneless beef loin New York strip roast with fat trimmed to 1/4 inch.
Step 2
Prepare the meat. Start by patting the roast dry with paper towel. Finely chop the garlic cloves in a food processor and then add the remaining ingredients (sage leaves through black pepper) until a paste forms. Rub the paste completely over the meat and put it in the fridge for a minimum of three hours.
Step 3
Roast the roast. Roast meat for 15 minutes on rack in a roasting pan, fat side up, in oven preheated to 450 degrees. Reduce heat to 350 degrees and cook for an additional 35 minutes to 40 minutes.
Step 4
Let rest. Remove from oven and wait 20 minutes before slicing crosswise at 1/3-inch thick and arranging on a platter.
Step 5
Serve the guests. This dish will not require much more effort than an assortment of appetizers but your guests will think you slaved all day.
Tips
This roast also makes delicious sandwiches so if you would like some leftovers, bump your roast up to seven pounds and increase your spices one and a half times. Cooking time will be about the same with a thermometer reading of 130 degrees for medium rare or 140 degrees for medium
Warnings
Timing is an estimate. Use an instant read thermometer to check for proper doneness.