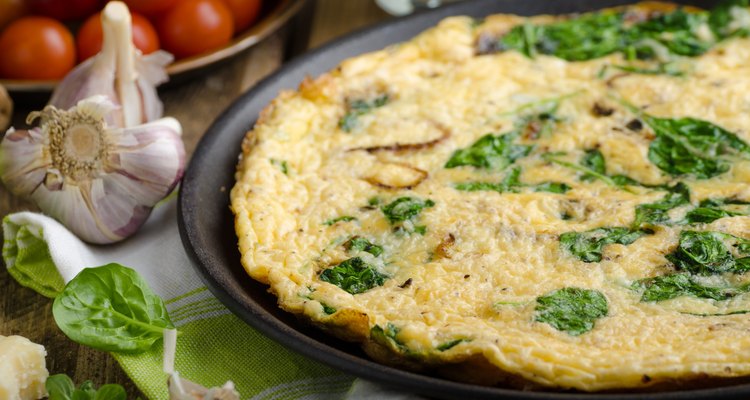 PeteerS/iStock/Getty Images
When you are trying to lose weight, eating low-calorie meals is a must. It takes creativity and planning to come up with a repertoire of quick and tasty meals. While it is tempting to choose from pre-packaged and quick-serve options, particularly when you are cooking for yourself, the most nutritious meals are usually those you prepare at home. Stock your pantry with healthy staples that can be used for several recipes, such as quick-cooking whole grains, canned beans and tuna packed in water, for example.
Tuna with a Twist
Any recipe can be easily adjusted to serve one person, some more so than others. Enjoy sandwiches for lunch or dinner and pair them with soup, if you like. To prepare Tuscan-Style Tuna Salad from the Eating Well website, you will need one 3 oz. can of chunk light tuna, drained; one-half of an 8 oz. can of small white beans, such as cannellini, rinsed and drained; 3 cherry tomatoes, quartered; 1 scallion, trimmed and sliced; 1/2 tbsp. each extra-virgin olive oil and lemon juice; a dash of salt and freshly ground pepper to taste. Combine all ingredients in a medium-sized bowl. Stir gently and stuff into a small 4-inch whole wheat pita. This recipe serves one and provides 327 calories, 34g protein, 35g carbohydrates, 9g fat, 1g saturated fat and 8g dietary fiber.
Quick Hearty Salad
Preparing a healthy, calorie-controlled meal is a snap with the right ingredients. Try "Fitness" magazine's fiber-rich Spinach Strawberry Salad. Wash and drain 2 cups fresh baby spinach, 1 cup romaine lettuce, shredded, and 1/4 cup canned kidney beans. Slice 1/2 cup strawberries and chop one hard-boiled egg. Toss these ingredients together in a large serving bowl and top with 1 tbsp. sunflower seeds; 1/2 cup broccoli florets; 8 croutons and 2 tbsp. reduced-fat oil and vinegar salad dressing. One whole recipe provides 377 calories, 20g protein, 36g carbohydrates, 16g fat, 3g saturated fat and 10g fiber.
Veggie Frittata
Try this tasty frittata recipe by MealsMatter. Cut 8 oz. thin asparagus spears into 2-1/2 inch thick pieces. Bring a pan of water to a boil, and cook the asparagus for about 2 minutes. Drain and set aside. In a mixing bowl, whisk together 2 eggs, 4 egg whites, 1 tbsp. snipped chives, 1/4 tsp. sea salt and freshly ground pepper to taste. Spray a 10-inch nonstick, ovenproof skillet with cooking spray. Place over medium-low heat. Add 4 thinly sliced shallots and cook until they begin to brown; about 2 minutes. Add the shallots to the asparagus, and stir into the egg mixture. Pre-heat the broiler, spray the skillet again with cooking spray and return it to the heat. When the pan is hot, slowly pour in the egg-vegetable mixture. Make sure the vegetables are evenly distributed. Reduce the heat to medium-low and cook until the bottom is set, about 5 minutes.
Sprinkle 2 tbsp freshly grated Parmesan cheese over the top, and place under the broiler for about 1 minute. Cut into wedges and serve. One frittata provides 109 calories, 10g protein, 10g carbohydrates, 3g fat, 1g saturated fat and 2g fiber.
References
Writer Bio
Michele Turcotte is a registered, licensed dietitian, and a certified personal trainer with the National Academy of Sports Medicine. She has more than 12 years of experience in clinical and corporate settings, and has extensive experience in one-on-one diet counseling and meal planning. She has written freelance food and nutrition articles for Trouve Publishing Inc. since 2004.
Photo Credits
PeteerS/iStock/Getty Images