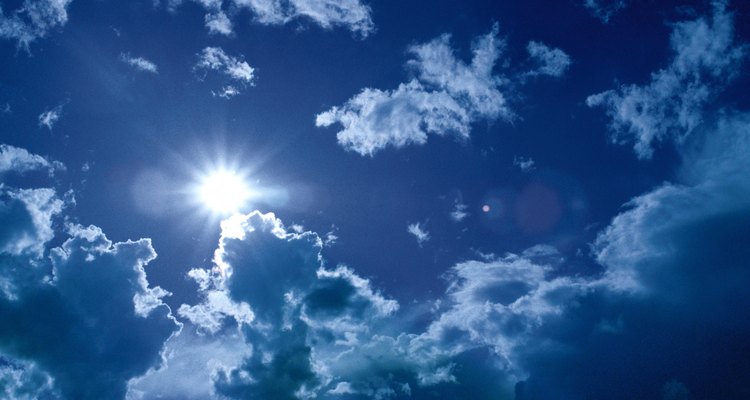 Comstock/Stockbyte/Getty Images
Ultraviolet rays from the sun can give you the bronze tan you love, but they also damage your skin. Repeated exposure to the sun may result in discoloration, wrinkles and other problems. Reverse some of the damage caused by the sun using a combination of preventative, repairing and protecting treatments, as chosen by dermatologists and beauty experts.
Alpha Hydrox Spot Light Targeted Skin Lightener
Skincare expert Paula Begoun calls Alpha Hydrox's spot treatment a "well-formulated skin-lightening product," thanks to its combination of glyolic acid and skin-fading hydroquinone. This inhibits melanin production while exfoliating the hyperpigmented skin to lighten skin discoloration from the sun, such as age spots.
La Roche-Posay Active C
Signs of damage from the sun, like liver spots and wrinkles, can be effectively countered with La Roche-Posay's vitamin C-based treatment. InStyle magazine put it in its list of 2010's best beauty buys and named it the best anti-wrinkle treatment for normal skin. Unlike many anti-aging products, this treatment is very lightweight so you can wear it daily and even underneath your makeup.
Bare Escentuals BareMinerals SPF 30 Natural Sunscreen
The natural sunscreen from Bare Escentuals won the prestige sun product category in the 2010 beauty awards put on by the Cosmetic Executive Women, a beauty industry trade group. The CEW loved it because it blocks out damaging ultraviolet rays using all-natural micronized titanium dioxide, to keep new sun-related damage from occurring. Meanwhile, it conditions and repairs your skin with aloe vera and other moisturizers. Numerous antioxidants, such as wrinkle-fighting vitamin A, help to reverse and limit the appearance of sun damage on your skin.
Clinique Youth Surge Night Moisturizer
The beauty editors of InStyle magazine picked Clinique's night cream as one of the top-performing night creams of 2010. The magazine says its antioxidants help protect and repair the damage caused by free radicals, which are released by the sun. It also helps plump up your skin for a smoother, less wrinkled look.
Shiseido Benefiance NutriPerfect Eye Serum
The sun's ultraviolet light can degrade your skin's collagen, which leads to wrinkling. Shiseido's treatment does the opposite, enhancing collagen levels to firm and lift your skin and reduce the severity of fine lines and wrinkles. The product earned top honors in the CEW's 2010 beauty awards, beating out dozens of other eye creams. The CEW notes that you may see results within a month.
References
"Don't Go to the Cosmetics Counter Without Me"; Paula Begoun; 2009
Writer Bio
Joshua Duvauchelle is a certified personal trainer and health journalist, relationships expert and gardening specialist. His articles and advice have appeared in dozens of magazines, including exercise workouts in Shape, relationship guides for Alive and lifestyle tips for Lifehacker. In his spare time, he enjoys yoga and urban patio gardening.
Photo Credits
Comstock/Stockbyte/Getty Images