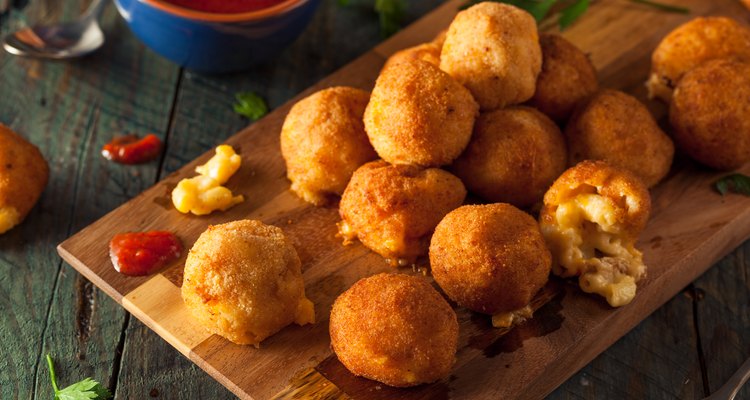 bhofack2/iStock/GettyImages
Four Fun Twists on Mac and Cheese That Make the Kids Say: More, Please!
Whether it's from a box or homemade from scratch, served as a side dish or by the steaming bowlful, macaroni and cheese is almost universally loved by kids—and plenty of their parents too. Most moms have figured out how to doctor up yet another pan of plain old mac and cheese by throwing in a handful of cooked chicken here, some frozen corn there, or vegetables cut so small you can't believe the kids can successfully fish them out. If you're looking for a bit more variety, but still need to keep the children happy about what's on their plates, turn to these four creative recipes that take mac and cheese to a new level.
1. Mac and Cheese Balls
Crispy on the outside, gooey in the middle and retaining the unadulterated flavor of plain mac and cheese, these fried balls are sure to be your kids' new favorite side dish, snack or appetizer with dips. The recipe calls for firm, cooled-down macaroni and cheese, so it's great for using up leftovers. Use an ice cream scoop or spoon to form bite-sized balls of cold mac and cheese. Dip them in beaten egg; roll in panko or regular breadcrumbs, and then shallow-fry or deep-fry the balls until they're golden.
2. Lowcountry Shrimp and Mac and Cheese
Take inspiration from shrimp and grits, the classic Lowcountry breakfast dish made with buttery, seasoned shrimp atop rich, cheesy grits—but replace the grits with kid-pleasing mac and cheese. Once your mac and cheese is made, it only takes minutes to prepare the shrimp to serve on top of the gooey pasta. Recipes for the shrimp vary considerably, but at the most basic, start with onions or scallions and garlic sauteed in plenty of butter, with shrimp stirred through until they're just cooked. Popular additions (pick your kids' favorites) include mushrooms, bacon, green peppers, tomato and heavy cream.
3. Green Mac and Cheese
Green vegetables add nutrients and a different flavor to macaroni and cheese, as well as their distinctive color to the sauce. Simmer mild-flavored green vegetables, such as peas, broccoli or spinach. Then scoop them out of the pot to blend with the cheese sauce using a stick blender or food processor. An alternative way to make green mac and cheese is with avocado, which many children enjoy and don't need to be coaxed into eating. Mash the avocado until it's smooth, and stir it into the cheese sauce before mixing it with cooked macaroni. For a more Southwestern flavor, add lime juice and cilantro.
4. Mac-and-Cheese Pizza
The classic flavors of pizza fit just as well on a base of cooked mac and cheese as they do on dough. Prepare macaroni and cheese, and spread it an inch or so thick on the base of a casserole dish or cast iron pan. A round pan is better for pizza impersonation. Pour marinara sauce over the pasta, and layer on your kids' favorite pizza toppings, whether it's pepperoni, mushrooms, peppers or pineapple. Top with extra cheese, and bake until it's bubbling. The "slices" won't hold together in the same way as real pizza, and definitely require a fork, but the taste is unmistakable.
References
Writer Bio
Joanne Thomas has worked as a writer and editor for print and online publications since 2004. Her writing specialties include relationships, entertainment and food, and she has penned pieces about subjects from social media tools for Adobe to artists' biographies for StubHub. Thomas has also written for such names as Disney, Hyundai, Michelob and USA Today, among others. She resides in California and holds a bachelor's degree in politics from the University of Bristol, U.K.