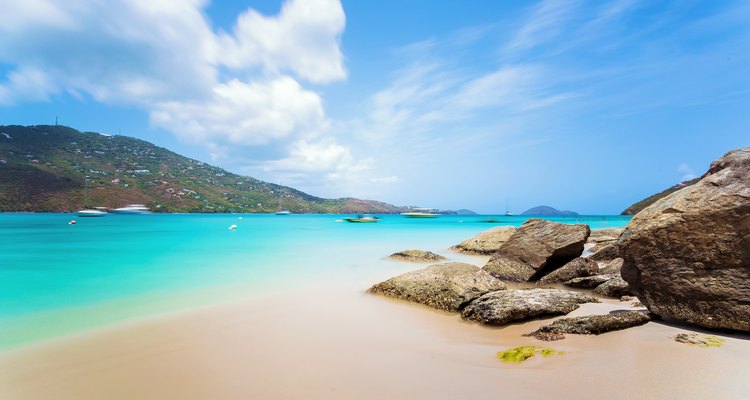 poladamonte/iStock/GettyImages
Embrace the Snow or Escape It, Whichever You Prefer
Winter is what you make of it. Some see it as a time to get out and enjoy the natural beauty of their surroundings, skiing and snowshoeing from sunrise to long after dark. For others, it's a harsh and bleak time, to be endured for just as long as it takes to go away someplace warmer. Whether you fall into one of those camps or somewhere in between, a country the size of the United States has a winter getaway option that will tick all the right boxes for you and your kids. These five choices just scratch the surface of what's available, but all five are exceptionally family friendly and can fit most budgets.
Mount Hood, OR
If snow is something you can take or leave, Oregon's Mount Hood might be your perfect wintertime getaway destination. The mountain slopes offer all the winter fun you and your kids can handle, but it's also just an hour away from Portland and that city's relatively mild and snow-free winter weather.
The mountain is host to three large and two smaller resorts, with plenty of skiing, snowshoeing and downhill tubing to enjoy. The SkiBowl is an especially alluring destination for parents, with a massive two-story indoor play area for the little ones and a separate tubing hill for small fry that's included in the cost of any adult tubing ticket. At night, the tubing hill switches to Cosmic Tubing, with a spectacular light show that makes it even more fun. The area has a wide range of accommodations available, from standalone chalets to hotels and motels in all price ranges. For film fans, the historic Timberline Lodge—featured in iconic horror movie The Shining—is worth a side trip.
Smuggler's Notch, VT
The Northeast has plenty of options for fun in the snow, but Smuggler's Notch in Vermont's Green Mountains might just be the best of all for families. The resort was quick to recognize that entertaining the kids was key to bringing in the family traffic, and it's all-in on showing your children a good time. There's a massive play area, and the resort offers daycare options on most of its vacation packages so you'll be able to have some grown-up fun on your own. There are three distinctly different hills to ski, so you're likely to find something well suited to your preferences and skill level. The resort's own package deals can be surprisingly cost-effective, especially if you book for mid-week, but you'll also have the option of taking lodgings nearby and trekking to the hill each day for its activities.
San Diego, CA
California has any number of family-friendly destinations, but the southern city of San Diego stands out. It's not as warm in mid-winter as southern Florida or a Caribbean destination, but its mid-60s daytime temperatures are just right for active outdoor fun, and there's plenty of that to be had.
The famous San Diego Zoo and its sister Safari Park are great places for the kids to build a respectful interest in the natural world, and winter is the whale-watching season along this stretch of the Pacific Coast. The beaches are a bit cool for swimming at this time of year but perfect for strolling and playing on, and Balboa Park's mixture of play areas, historic interest and beautiful gardens make it a fine place to while away hours relaxing and spending time together. There are plenty of museums here—including the USS Midway, an entire aircraft carrier—and other attractions including Legoland. Keeping your days filled will be less of an issue than just finding enough days to take it all in.
The U.S. Virgin Islands
If nothing but a Caribbean vacation will take away the sting of that blizzard raging outside your window, the U.S. Virgin Islands can be a great option for your winter getaway. As a U.S. territory, it's considered a domestic destination, so you can pounce on that seat sale and not have to fuss with passports or visas for you and the kids. The beaches are stunning as you'd expect, and most of the resorts have plenty of on-site activities for the youngsters. Each of the three islands has its own charms, but a couple of especially noteworthy attractions can be found on St. Thomas. One is the cable car, or "tram," which whisks you from sea level to the peak of Paradise Point and its spectacular view of the island. The other is Coral World Ocean Park, where you and your kids can get a close-up look at the life of a coral reef and visit with many of the creatures that call it home. Seriously, how many kids get to say they petted a shark during their winter holiday?
Las Vegas, NV
The gambling mecca's "Sin City" reputation means it probably wasn't your first thought as a getaway with kids, but it's a surprisingly good choice. The outdoor temperatures are pleasantly mild in mid-winter, rather than desert-sweltering, meaning your kids can run and play to their hearts' content without becoming overheated. Many of the major hotels offer walk-in attractions at no charge, even for non-guests: The simulated volcano at Mirage, the light-and-sound show at Bellagio's famous fountains, the massive aquarium at Caesar's Palace, Flamingo's wildlife habitat and especially Circus Circus' all-day free circus all have serious kid-entertainment value. The city boasts any number of playgrounds, play areas and kid-oriented attractions, as well. If your kids are a bit older and ready to appreciate them, both the Grand Canyon and Hoover Dam are close enough for easy day trips from Las Vegas itself.
References
Writer Bio
Fred Decker is a trained chef and certified food-safety trainer. Decker wrote for the Saint John, New Brunswick Telegraph-Journal, and has been published in Canada's Hospitality and Foodservice magazine. He's held positions selling computers, insurance and mutual funds, and was educated at Memorial University of Newfoundland and the Northern Alberta Institute of Technology.