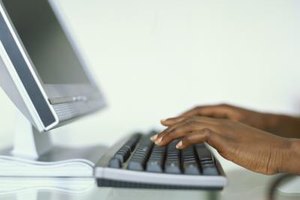 A goal -- or personal -- statement is a vital part of the college application process. This is where you can get creative and engage the admissions team by letting them get to know you on a more personal level outside of your grades and standardized test scores. It pays to plan out this important piece of the application process and integrate your own experiences with the school's offerings.
Read over the essay guidelines thoroughly. Each school has different essay specifications, including essay length and topics to be discussed. What the school wants you to include in your essay will determine your further research for your goal statement.
Research detailed information about the school. By now you should be forming a general idea of what your essay will include, but it is also important to gain an understanding of the school's culture. You want to focus mainly on yourself when writing the essay, but if the school has an emphasis on community service, for example, and you have spent a great deal of time volunteering, it would be in your best interest to include this in your essay.
Outline your ideas. This will form the rough draft of your essay and should include concrete evidence that you fully understand the essay topic and are interested in the school. Most importantly, include personal anecdotes that you will discuss in the final draft.
Write the introduction. A good rule of thumb is to include a restatement of the essay question. This assures the reader that you will address all of the questions and serves as a good reminder for you to address them in the body of your essay.
Use your outlined ideas to form the body of your essay. A goal statement is not simply a listing of your accomplishments and the goals you have set for yourself in your upcoming college career. You need to take these ideas a step further and relate them in a more story-like fashion. The aim here is to give the reader a chance to get to know you through your writing. However, do not be overly emotional. You should talk about difficulties and how you overcame them, but avoid spending significant time talking about how these difficulties made you feel, especially in a graphic way.
Discuss your plans for college in the body of your essay. It helps to tie your personal story into the college community itself, and how you believe you will both benefit from your attendance at the school. This should not be the emphasis, but it is important to include it in your essay because it shows ambition and interest in the specific college.
Wrap up your personal statement with a memorable conclusion. Like the introduction, the conclusion helps to restate, in your own words, the essay questions. This leaves the reader with an understanding that you have answered all the questions thoroughly.
Proofread your essay several times. It is vital that you check your goal statement for any errors. You also must be sure you have answered all the questions, have written a story that is personal but not emotional and have told your story in a logical order. Have at least one trusted person read and critique your essay before you submit it.
Tips
Present your statement in a professional way. Use nice white or cream-colored paper and stick to Times New Roman or a similar font. If the school specifies a certain style, always defer to their instructions.
Most essays should not be very long, and most schools will give you a target word count. A good rule of thumb is to keep the essay to one page or less.
Do not restate everything you have accomplished, as this information will already be on your resume and/or application form. Instead, choose a few of these points and talk in detail about them.
Avoid cliches. Remember that admissions committees read thousands of essays each year, and including catchphrases will not make your essay stand out from the crowd.
Photo Credits
Stockbyte/Stockbyte/Getty Images