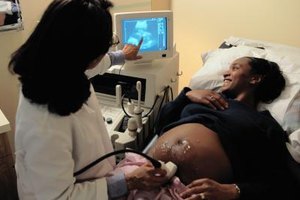 It takes a team of health-care professionals to deal with women's health care issues, including pregnancy and childbirth. The leader of a woman's health-care team is an OB-GYN, a medical doctor specializing in obstetrics and gynecology. Other members of an OB-GYN team include sonographers, anesthesia professionals, obstetric surgeons, nurse midwives, neonatologists and OB-GYN nursing staff.
Sonographers
A sonographer uses ultrasound waves to create an image of the fetus in the mother's abdomen. Parents are often excited that a sonogram can be used to determine the gender of the fetus, but the images are also used for diagnostic purposes. Transvaginal scans, a type of sonogram, are often performed early in a pregnancy to screen for ectopic or molar pregnancies. Fetal echocardiograms are used to assess heart anatomy and function when congenital heart defects are suspected. Sonography can also be used to diagnose conditions not related to pregnancy.
Anesthesiologists and Nurse Anesthetists
Anesthesiologists and nurse anesthetists administer anesthesia to block pain or render a patient unconscious during surgery. Many women choose epidural anesthesia to reduce the pain of childbirth. Epidural anesthesia blocks pain in the lower abdomen, but does not render you unconscious. Some women need to have a Cesarean section, an operation to remove a baby, because of the position of the baby in the uterus or other complication. Most, but not all, C-sections are performed under complete anesthesia where the patient is unconscious.
Obstetric Surgeons
All obstetric-gynecological specialists have basic surgical training, and most regularly perform common non-childbirth-related procedures involving the female reproductive anatomy. Some obstetricians specialize even further in subspecialties such as oncology or reconstructive surgery. These specialized surgeons remove tumors from the uterus, ovary, cervix and vulva, and perform operations to treat conditions such as pelvic organ prolapse or incontinence.
Nurse Midwives
Nurse midwives are members of the OB-GYN team at most hospitals. Many women choose to work with a nurse midwive during a natural childbirth, which may occur at home or in a birthing studio. Master's level-trained nurse midwives are well-versed in all aspects of pregnancy and dealing with minor birth complications. Most nurse midwives are affiliated with or employees of a hospital, so if serious complications develop during childbirth, the patient is typically transferred to a hospital as soon as possible.
Neonatologists
A neonatologist is a doctor specializing in the care of newborn and premature babies. Neonatologists diagnose and treat newborn infants with conditions including breathing disorders, infections and birth defects. Obstetricians consult with a neonatologist if a problem with the fetus is discovered before birth, or bring them in if there is an undiagnosed condition or injury at birth.
OB-GYN Nursing Staff
OB-GYN nursing staff are registered nurses who provides direct care to women in childbirth and to newborn infants. Most work in hospital labor, delivery and post-partum care units, as well as at birthing centers and maternity clinics. OB-GYN nurses receive additional training, and some employers require a professional certification. Typical duties include taking medical histories, keeping medical records and assisting physicians during procedures. OB-GYN nurses also administer medications under the supervision of a doctor, install fetal monitoring devices, and help educate pregnant women and new mothers.
Photo Credits
Keith Brofsky/Photodisc/Getty Images