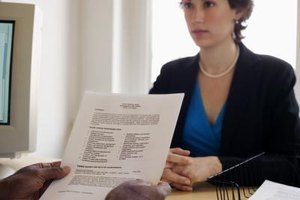 Getting back into the workforce after taking several years off can be a challenge. You're tasked with showing employers you're just as qualified for the job as other candidates with more recent work experience. When writing your objective it's important to focus on your skills relevant to the position, not the fact that you're trying to get back into the workforce after taking several years off.
Summary Statement
Skip the objective stating the type of position you're looking to find and instead write a summary statement including skills you can offer the company. Scan the job description for keywords relevant to your skills and use them in your statement to capture the attention of the hiring manager. For example, if you're applying for a bank teller position and requirements listed include detail-oriented, trustworthy and excellent customer service skills, work these keywords into your summary statement as traits you can offer the company.
Connect Relevant Experience
Highlight applicable volunteer activities and training programs you've taken during your time off. This shows that you haven't simply been sitting around, but have taken the initiative to improve yourself even when you weren't working. For example, if you're applying for a job as an event planner, mention that you serve as the event committee chair for your local chapter of the Humane Society.
Be Honest
It's advisable to showcase your relevant skills and experience, but be honest that you've been out of the workforce for a few years. It's much better to be upfront about your long employment gap than to have the hiring manager find out later and feel like you're trying to be secretive about it. Disclose that you haven't been working for a few years, but don't provide too many details explaining the reason. For example, never explain that you were fired from a job or have been experiencing medical issues. Instead, simply say that you took some time off but are now excited to get back into the workforce.
Use a Cover Letter
Instead of including your explanation for an employment gap in the objectives portion of your resume, you can opt to do this in a cover letter. This gives you the chance to be honest about your situation from the start, before the hiring manager even gets to your resume. Instead of using your objective to explain your employment gap, you can use your entire resume to focus on why you're a great fit for the job.
Photo Credits
Creatas Images/Creatas/Getty Images