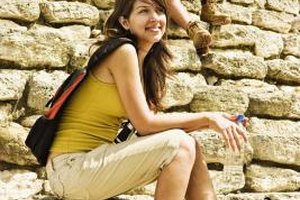 If you find yourself overtaken by wanderlust, but can't afford to travel, you might find what you're looking for during a summer teaching abroad. If you're qualified, you can save money from travel expenses and have a job set up for you in a country of your choosing. Teaching abroad requires a broad sense of adventure, and a love of giving back to the world. If you're ready to travel to a new country and teach the locals, make sure you're open-minded and ready for adventure.
Earn a bachelor's degree in the field related to the one you want to teach.
Choose a program of interest from a summer abroad teaching program. In order to teach language abroad, you must become TEFL (teach English as a foreign language) and TESOL (teaching English for speakers of other languages) certified. You can enroll in a TEFL/TESOL certification program at an international location provided by the program or taking the course online.
Create a resume detailing your education qualifications and experience teaching. Some summer abroad teaching programs may ask for a personal statement about why you want to travel to teach. Explain how you will cope with transitioning to life in a foreign country.
Provide recommendation letters to the summer abroad program of your choice.
Apply for a teaching position at an organization such as Greenheart Travel, WorldTeach or Go Abroad.
Tip
Obtain travel insurance and an international cell phone and SIM card.
Resources
Photo Credits
Jupiterimages/Brand X Pictures/Getty Images