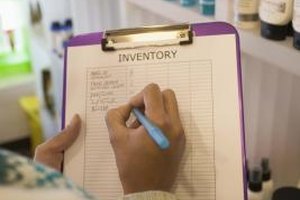 Inventory maintenance is essential to the success of a business. A storeroom attendant (sometimes called a storeroom clerk or stockroom attendant) controls the flow of inventory. He prepares inventory statements, orders supplies and ensures a business has the necessary amount of tools, supplies and products in stock. The attendant uses math and attention to detail to maximize profitability and minimize waste.
Salary
The Bureau of Labor Statistics (BLS) reports the 2012 mean hourly wage of a storeroom attendant was $11.75 and the mean annual salary was $24,440. Annual salaries in 2012 ranged from $16,890 to $36,820 annually. There has not been a significant salary increase in 2013.
Regional Comparisons
A storeroom attendant's salary varies significantly geographic location. In Tacoma, Washington, the 2012 average annual salary for this occupation was $29,800 and in Peabody, Maine, averaged $28,740. In Fort Stewart, Georgia, and Bay City, Michigan, annual salaries in 2012 averaged $22,620 and $22,790, respectively. Salaries were highest for this occupation in Fairbanks, Alaska, where the 2012 average was $32,410, reports the BLS.
Contributing Factors
Salaries for all occupations tend to be greater in areas where the cost of living is higher and less where living costs are lower. Additionally, many of the top-paying areas for storeroom attendants had a relatively low employment per capita for the occupation. The supply of storeroom attendants may be lower in these areas and this may impact salaries.
Career Outlook
As of 2012, the BLS reports there are 1,806,310 storeroom attendants employed in the United States. The BLS projects this occupation to grow only 2 percent during the 2010 to 2020 period, which equates to about 465,000 job openings. This is a much slower than average increase. Those with experience in the occupation, or in a related field, such as warehouse workers or retail clerks, will likely have the best opportunities.
Photo Credits
Jupiterimages/Comstock/Getty Images