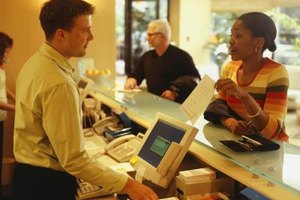 Since hotels and other hospitality venues often attract travelers from different cultures, quality service entails meeting the needs of all customers. When managers or employees encounter dissatisfaction because of a cultural misunderstanding, immediate action should be taken to reduce or eliminate potential negative effects.
Identifying Causes
According to Eckerd College, cultural misunderstandings can arise from numerous factors. Identifying the source of the misunderstanding can help managers and employees determine how to best address the emotional content of the situation. For example, some problems might be related to language while others are related to class, status, anxieties or ambiguity. Determining why a customer is upset will help solutions be more targeted toward resolving the misunderstanding.
Strategies
Hospitality staff should remain calm when trying to resolve a cultural misunderstanding, according to the article "Resolve Cross-Cultural Misunderstandings" from the Sydney Institute. If the guest has already stated that she is upset, employees and managers should apologize for the situation. Non-verbal communication skills, such as eye contact, can deepen the authenticity of the apology, according to Charles Stuart University. Allowing too much time to lapse between a misunderstanding and an apology can cause the client's dissatisfaction to escalate. Hospitality businesses that already have guidelines in place should adhere to the preferred protocol. If employees aren't sure how to proceed in an escalating situation, they should immediately contact a supervisor.
Empathy
Hospitality workers need to consider and reflect empathy for guests, according to hospitality expert Doug Kennedy, writing for Hospitality.net. Travelers sometimes stay at hotels for funerals, not just weddings; companies sometimes host summits to decide which facilities to close down, not just host entertaining trainings. When customer empathy becomes part of training, staffers will have more natural, compassionate reactions when cultural misunderstandings occur.
Prevention
Kennedy emphasizes the importance of positive experiences at the front desk to build an immediately positive rapport with guests. When guests have a strong first impression of professionalism and courtesy, it becomes easier for them to overlook misunderstandings or mistakes that might occur later in their stay. Conversely, customers who encounter a hospitality snafu immediately upon arrival will feel more sensitive should something go awry later in their stay.
Photo Credits
Ryan McVay/Photodisc/Getty Images