Whether you had an amicable or difficult divorce, setting boundaries can be challenging. It is only natural for you to still feel connected to your ex after the divorce. Setting boundaries, however, is a necessary and healthy way of moving on with your life. Depending on the circumstances of the relationship, there may need to be a separation agreement that outlines your boundaries. Once the boundaries are set, stay firm and take action if you feel you need to.
How to Set Boundaries After a Divorce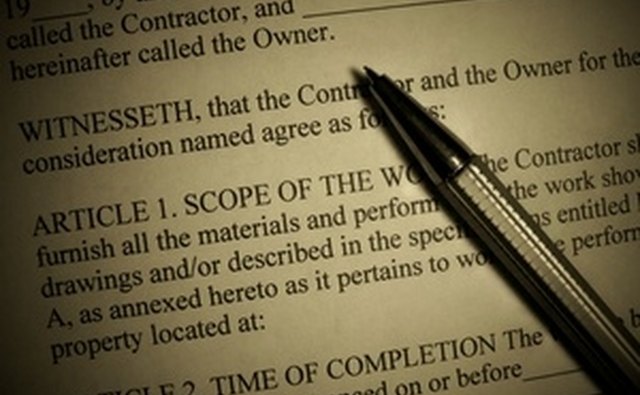 Make sure there is a separation agreement in your divorce file when you finalize your divorce. The separation agreement should list custody issues, if any, as well as distribution of property. The separation agreement will be the pivotal legal document should you have any problem with your ex violating your established boundaries. If you need to take legal action, the courts will rule in favor of the terms established in your agreement.
Establish a clear set of visitation rights, if there are children of the marriage. Do not involve the children in any type of communication between the two adults. Children should not be involved in arguments or asked to relay messages. Do not disparage your ex in front of your children and ask the same of your ex. This will help to avoid projecting the relationship and its issues on the children who are the innocent parties.
Cut all ties with your ex, if possible. This will send the message that you are through with the relationship. Relying on the ex for money or emotional support will not have a positive effect on your newly single life. It is imperative that you move on with your life in spite of any issues. If your ex tries to take advantage of you or continues to act like your spouse, put a stop to those actions right away. You are no longer married, therefore you are no longer responsible for the other person.
Take legal or civil action if necessary. If your ex continually shows up at your house at all hours for no reason, a restraining order may be the solution. Sometimes showing that you are willing to take action is enough to enforce the boundaries. Be diligent in your efforts and eventually your ex will get the message.
Items you will need
Separation agreement
Lawyer
Tip
Have your attorney help to stipulate the boundaries, it will be a useful legality.
Warning
If you or your children feel threatened by your ex, contact authorities immediately.
Photo Credits
man and woman divorced image by Ivonne Wierink from Fotolia.com