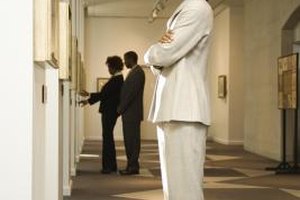 The proper care and storage of art, artifacts and other objects is left in the skilled hands of museum collections managers. Sometimes referred to as registrars, these museum technicians may also handle the arrangements for museum acquisitions, the documentation for gifts or loans and the paperwork for insurance. Collections managers often work in concert with curators to preserve the physical aspects of museum collections.
Salary
In 2012, half of all museum collections managers earned at least $38,220 a year, according to the Bureau of Labor Statistics (BLS). The top 10 percent of earners made more than $69,500 a year, while the bottom 10 percent earned less than $24,920 annually. As far as averages go, salaries were closer to $42,920 a year.
Location
As with any job, location affects earnings. Among the states, collections managers in the District of Columbia earned the highest wages in the nation, at an average of $55,670 a year. Those working in Maryland were a close second, averaging $55,570, while collections managers in Alaska ranked third, at an average of $54,650 annually. The lowest wages paid for this position were in South Dakota, where the average was just $27,690.
Education
Employers typically seek candidates with at least a bachelor's degree in museum studies or a discipline related to the museum, such as art, art history, history or archaeology, among others. Experience working in museums and designing exhibits is also preferred. Earning a master's degree in museum studies or a discipline related to the museum can improve your chances of employment, especially in such a competitive job market.
Outlook
The BLS expects employment for museum collections managers -- as well as conservators -- to grow by just 7 percent through 2020. This is half the average growth rate for all U.S. occupations, a projected 14 percent. In this relatively small field, the 7-percent growth works out to the creation of 800 new jobs. Because of the limited number of positions, competition for available jobs will remain strong.
Photo Credits
Thinkstock/Comstock/Getty Images