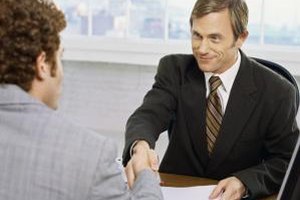 Food divisions of an organization may vary in nature, but most have one thing in common: They are responsible for the food that is made available to the public. Because food divisions handle packaged food or the products for the food service or restaurant industry, organizations often face strict regulations from the government. As a human resources manager in a food division, you will be responsible for performing general human resources management duties in a highly regulated environment.
Hiring Food Workers
Human resources managers in food divisions have the important task of hiring workers that will maintain food safety and quality. In order to recruit and hire high quality candidates, the human resources manager is usually responsible for placing job ads that contains appropriate qualification requirements and for screening job applications. The manager may participate in the interview process and assist hiring managers in selecting candidates for hire. He may also be responsible for anticipating hiring needs in order to ensure there is adequate and appropriately qualified staff, so the division can operate efficiently and without compromising the safety of other workers.
Enforcing Industry and Company Regulations
Human resources managers are responsible for developing company policies that enforce regulations set forth by the U.S. Food and Drug Administration and other external regulating bodies. For example, the FDA requires certain food workers to adhere to a hand washing requirement in order to prevent the transmission of disease. The human resources manager might incorporate this policy into the company's employment policies in order to ensure that workers are aware of the requirements. The HR manager would also then assist in ensuring compliance with these policies by providing information and support to relevant managers for enforcement.
Managing Employee Performance
Food division human resources managers have many of the same duties as HR managers for companies or other types of divisions. They are responsible for handling employee relations issues such as disputes and concerns between employees, or between employees and management. Human resources managers also may be responsible for handling performance issues, whether it's a disciplinary action or a routine performance evaluation. In addition, the HR manager for a food division may be responsible for implementing programs that help to boost or maintain worker morale.
Ensuring Worker Safety
Because working in the food industry may involve food handling or running complex machinery, the human resources manager of a food division may have extensive duties related to employee safety. These duties may include ensuring that all workers are properly trained on equipment and on general safety issues. The manager may be responsible for performing safety inspections in the workplace and correcting any potential hazards. Should an accident occur in the workplace, the HR manager may have responsibility for completing organizational incident reports or reporting the incident to the U.S. Occupational Safety and Health Administration.
Photo Credits
Stockbyte/Stockbyte/Getty Images