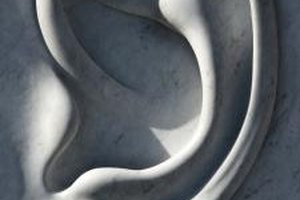 Audiologists must have high-levels of education and certification. They need technical skills to use audiometers, computers and other devices that test patients' hearing, examine hearing damage and identify the causes. Most work full-time to meet their patients' needs, or on a contract basis, requiring travel from place to place.
Important Qualities
Before taking the first step to becoming an audiologist, evaluate yourself for the qualities that audiologists need -- compassion, communication, critical thinking, patience and problem solving. Audiologists deal with people who are suffering from problems of the ear and who are losing their ability to hear or balance themselves. Compassion is needed to provide support to the patient and their families. After running tests, audiologists need to clearly communicate their diagnoses and their treatment plans. They must think critically to analyze the subtle nuances in each patient's situation. Some patients may require more time than others, so patience is important.
Education
Audiologists need a doctoral degree in audiology, or Au.D. The program lasts four years, with a bachelor's degree in any field required to enter the graduate program. The graduate coursework includes anatomy, physiology, physics, genetics, normal and abnormal communication development, diagnosis and treatment, pharmacology and ethics. Students also get clinical practice under the supervision of professional audiologists. The graduate program should be accredited by the Council on Academic Accreditation.
Certificate of Clinical Competence in Audiology
Potential audiologists must pass six standards to receive certification from the American Speech-Language-Hearing Association. All applicants for certification need to complete an accredited doctoral degree. Throughout the course of certification, candidates will learn the knowledge and skills necessary to practice audiology in six areas: foundations of practice, prevention/identification, assessment, rehabilitation, advocacy/consultation and education/research/administration. Applicants must complete a minimum of 1,820 hours of supervised clinical practicum by audiologists holding an ASHA Certificate of Clinical Competence in Audiology.
Continuing Education
Forty-one states require potential audiologists to renew their licenses by pursuing continuing education. The American Board of Audiologists requires at least 45 hours of continuing education within the previous three years. The American Speech-Language-Hearing Association's certification requires 30 hours of continuing education.
Resources
Photo Credits
Jupiterimages/Photos.com/Getty Images