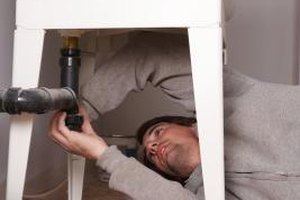 Plumbing is a skilled trade, and it takes many years of training to become a master plumber. Most plumbers come into the field as plumber's apprentices, and typically work as apprentices for three to five years before they become full-fledged, journeymen plumbers. Modern plumbers use a number of tools and devices that require significant experience to handle safely and effectively. Most states require plumbers to have at least two or three years of professional plumbing experience and pass an exam in order to become licensed.
Earn an associate degree in plumbing technology from a local community college or technical school. You will take courses in fundamentals of plumbing, pipe system design, drawings and layout, plumbing math, basic welding and tool use.
Apply for plumbing apprenticeship programs in your area or in a city where you want to work. Coming in with an associate degree gives you a big edge over other aspiring plumbers who may have little to no plumbing knowledge or experience. In most cases, it also means you can complete your plumbing apprenticeship in a shorter time.
Complete your plumbing apprenticeship. According to the Bureau of Labor Statistics, plumbing apprentices are typically expected to put in 1,700 to 2,000 hours of paid on-the-job training and at least 246 hours of plumbing-related technical education a year.
Apply for a journeyman plumber's license in your state. Take and pass the licensing exam. A number of states require plumbers to get an additional license to work on natural gas lines.
Tip
Develop your professional network while you are in school. Getting to know your finstructors and working plumbers, contractors and inspectors will help you land a spot in an apprenticeship program.
Photo Credits
Jupiterimages/Photos.com/Getty Images