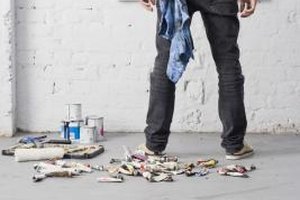 Many artists around the world make beautiful pieces of art but are unsure about how to actually sell their work. Today's technology has opened up many opportunities to market and sell your art as well as organize and stay connected with your contacts and clients.
Sell on Your Own
Marketing and selling your art yourself can be time-consuming and costly, but the upside is that you get to keep all the profits. Many artists start with creating a website that displays artworks for sale. Get business cards and flyers made with your contact and website information included. The average American, according to PewInternet.org, has ties with more than 600 people, so promote yourself to everyone you know and ask for referrals. You can also sign up to display and sell your art at trade shows and swap meets, usually for a small fee. Have an email sign-up sheet so you can stay in contact with everyone you meet and then send out newsletters, coupons and other promotional materials.
Art Shows
Many artists sell their art by putting on art shows. You can have a solo art show or a combined show with other artists. Most artists provide light refreshments and snacks, which can help attendance. First, you need to find a space large enough to display your art and accommodate your guests. Many businesses and organizations rent out rooms by the hour or day. Also consider partnering with a business like a coffee shop or bar that will allow you to use its space for a percentage of what you sell instead of a rental fee. Some organizations may allow you to use their facilities at no cost if you allow them to promote their cause and services at your show.
Online Art Sellers
You can sell your art through online businesses in many ways. Websites like SaatchiOnline.com and ArtistRising.com allow you to display your art for free. You can create a profile and direct people there to view your artworks. Often, you personally pick the sale price of your originals and copies. Then, when someone buys a piece of your art, the company takes a predetermined percentage of the amount. This is a good option for many artists, because cost and maintenance are low and it's easy to use.
Art Gallery Representation
Being accepted by an art gallery can be difficult, competitive and time-consuming, because many artists submit their work for consideration. Art galleries offer many benefits, however. If it decides to represent you, an art gallery promotes and sells your work. Many galleries have opening receptions that they heavily market for new artists and artists with new bodies of work. They'll display your artwork year-round for shoppers to see and buy. Many galleries have online submission directions for artists who'd like to be considered. You can also visit the galleries in person to introduce yourself and show the owner images of your artwork.
Photo Credits
Jupiterimages/Polka Dot/Getty Images