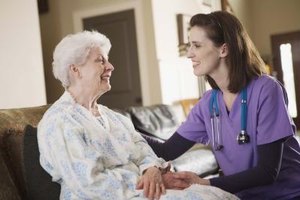 Caring for patients with musculoskeletal disorders is the main responsibility of orthopedic nurses. They assist physicians in treating people, dealing with anything from a broken bone to osteoporosis. But orthopedic RNs do more than administer treatments; they also educate patients on preventative and rehabilitative measures of musculoskeletal disorders. In this specialty, orthopedic nurses often earn more than the average RN.
Salary
In 2012, RNs averaged $67,930 a year, according to the Bureau of Labor Statistics. But this figure reflects the salaries of all RNs, regardless of specialty. "Scrubs," an online clinical nursing magazine, ranked orthopedic nurses as the sixth highest-paid nursing specialty, at an average of $81,000 a year in 2010. The highest-paying specialty was for nurse anesthetists, at an average salary of $135,000 annually.
Education
Like all RNs, orthopedic nurses begin their training in an associate or undergraduate degree program for nursing -- a two- to four-year commitment. Graduates then go on to sit for the national council licensure examination, or NCLEX-RN, to earn their license. Employers, however, rarely hire recent graduates as orthopedic nurses. Instead, you'll often start your career as a staff nurse. As you gain experience, you may then start working in orthopedic units.
Certification
To become a certified orthopedic nurse, you must have two years of experience as an RN with at least 1,000 hours in an orthopedic unit, notes the Orthopaedic Nurses Certification Board. You're then eligible to take the ONC examination. ONC certification lasts for five years. To stay current, you must retake the exam or complete 100 hours of continuing education prior to your ONC expiration date. At least 70 of the 100 hours must be specific to orthopedic nursing. The remaining 30 hours are at your discretion. You can choose continuing education courses in orthopedic nursing or another specialty.
Outlook
The BLS expects employment of RNs to grow by as much as 26 percent through 2020. This is almost double the average growth rate of all U.S. occupations, a projected 14 percent. With more than 2.7 million nursing positions in the nation, the 26 percent works out to the creation of 711,900 new jobs, or almost 3.45 million total jobs. Nurses with at least a bachelor's degree in nursing will experience the greatest job prospects.
Photo Credits
Jupiterimages/Brand X Pictures/Getty Images