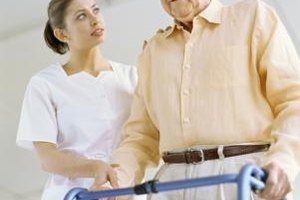 A general medical and surgical hospital treats patients of all ages who have many different medical conditions, illnesses and injuries. These hospitals typically provide pediatric, obstetric and emergency services, perform surgery and treat acute conditions and trauma. Specialty hospitals limit their services to a particular kind of patient or medical condition, or may perform surgery exclusively. Nurses who work in specialty hospitals may need some specific skills.
The Basics
Whatever their specialty, all registered nurses use the nursing process -- assessment, planning, intervention and evaluation -- and perform basic technical skills, such as medication administration or starting an intravenous line. They learn these skills in nursing diploma, associate and bachelor's degree programs. RNs must be licensed in all states. Certification is optional but available in many specialty areas. Some employers, however, may prefer or require certification. Nurses who work in specialty hospitals or in some specialty areas may also need additional education.
Surgical Specialties
Some hospitals provide only surgical services. The two primary nursing specialties in these hospitals are postoperative care and perioperative nursing. Perioperative nurses prepare patients for surgery, scrub or circulate in the operating room and work in post anesthesia care units to help the patient recover from anesthetic. Postoperative nurses care for patients after they recover from anesthesia. They must be skilled in pain management, postoperative assessment and wound management. Perioperative and postoperative nurses in these hospitals must be familiar with a broad range of surgical procedures, tools and equipment, and potential complications such as infection.
Surgical Subspecialties
Surgical hospitals may specialize further in a particular field, such as orthopedics. Often called boutique hospitals, these facilities may be criticized because they focus on those services or procedures that are most profitable, according to the Arizona Hospital and Healthcare Association. In an orthopedic hospital, the perioperative nurse must have extensive knowledge of the specialized surgical tools and equipment used for orthopedic procedures, as well as orthopedic hardware and implants. The postoperative nurse specializes in the care of patients who have had orthopedic procedures such as joint replacements, ligament and tendon repairs or knee surgeries such as menisectomies. The nurse must be alert for circulatory or bleeding complications, which are more likely to occur with orthopedic procedures such as total knee or total hip replacements.
Rehabilitation
In rehabilitation hospitals, the goal is to help a patient recover enough become independent -- or as independent as possible -- and go home. Nurses in these facilities are experts in the care of people who have had strokes, brain or spinal cord injuries or traumatic amputations. Because these patients are medically stable, the nurse's skills are directed toward customized therapy, intense exercise programs and collaboration with other disciplines such as physical therapy and occupational therapy. Patient and family education is a major component of this nursing role.
Photo Credits
George Doyle/Stockbyte/Getty Images