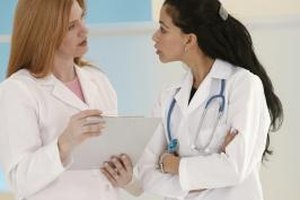 Conflict is going to happen during your nursing career. When you deal with people in stressful situations, conflict is inevitable. You may disagree with doctors, other nurses, patients and their families. You may have to mitigate conflict when you see it going on with your charges. While avoiding conflict altogether may be impossible, you can learn to effectively manage it and reduce its negative consequences.
Don't Avoid It
Nurses are seen as caring, empathetic professionals who aren't supposed to get into conflicts. With such an image to protect, nurses often fall prey to the stereotype and take steps to avoid conflict or the appearance of conflict at all costs. They may ask to transfer to another shift rather than face a co-worker with whom they have conflict. They may avoid spending time with patients who refuse to follow directions. According to Nursing World, conflict avoidance is a major contributor to high nurse turnover and reduced quality of care and patient safety.
Get Everyone Talking
Arrange for everyone involved in the conflict to sit down and talk face to face. Communication is more effective when you can look a person in the eye and gauge body language while you're engaged in conversation. Find a neutral place to meet. For example, if your conflict is with other nurses, meet in the cafeteria. Bring your patient's family into an office to sort through your conflicts.
Bring in a Mediator
Often, emotions run too high for conflicting parties to talk productively. Ask for your supervisor to step in and mediate a conversation if you're having a disagreement with a fellow nurse. Let your supervisor know you are interested in finding a solution to your conflict and not necessarily winning the argument. Conflict-resolution meetings can lead to more effective teamwork when the parties seek common ground and keep their meetings solution-oriented.
Attend Training Classes
Since conflict is inevitable, nurses should prepare for it by attending training classes in conflict resolution. Working on your own communication skills can help you improve your ability to resolve issues with peers and patients. Being able to clearly state your problem can lead to solutions that may have eluded you in the past. Make conflict-resolution training mandatory for you and your nursing staff. Organizations such as the American Nurses Association offer continuing education courses in conflict resolution.
Photo Credits
Comstock Images/Stockbyte/Getty Images