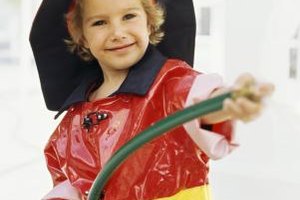 So your little one wants to be a firefighter for Halloween? Or maybe she just wants a uniform of her own for dress-up play after a school field trip to the local fire station. You could always buy an off-the-rack costume, but making a DIY costume with your toddler offers an opportunity for parent-child bonding and results in a unique costume that nobody else on the block can match. (You already knew it was cheaper, too, right?)
Place strips of yellow reflective tape along the bottom edge of the raincoat, all the way around.
Place another strip of yellow reflective tape across the coat's chest.
Place one ring of reflective yellow tape on each of the coat's lower arms. Repeat with the upper arms if you like.
Outline the coat's collar in reflective tape.
Apply a ring of reflective tape around the top of each boot.
Dress your child in the black shirt and pants first, then the boots and coat. Top off with a plastic firefighter's hat. Your costume is complete.
Items you will need
Red or black raincoat
Black T-shirt or long-sleeved shirt
Black sweat pants, knit pants or leggings
Black rain boots
Yellow reflective tape
Firefighter hat
Tips
The yellow reflective tape has the added bonus of making your child's costume safer for after-dark trick or treating.
Reader's Digest suggests cutting a black plastic tablecloth into a coat, securing the sleeves and hems with staples and electrical tape. You could also use an oversized black button-up shirt as the base for a coat. Cut the tails off if needed and hem with reflective tape. Use more reflective tape as above to finish the look.
You can often obtain a plastic firefighter's hat for free simply by scheduling a visit to the local fire department. They may have mock badge stickers and other useful accessories as well.
For an extra dose of cute, your child could carry a plush Dalmatian puppy toy under her arm or peeking out of a front pocket.
Warning
Remember to dress your child warmly for Halloween trick-or-treating. You may want to add a sweater or fleece jacket under the firefighter coat depending on the weather.
Photo Credits
George Doyle/Stockbyte/Getty Images