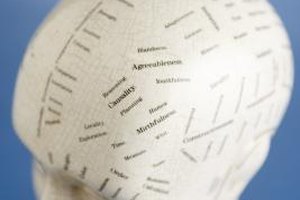 Numerous universities offer doctorate programs in human sexuality, training individuals to enter careers with high levels of understanding surrounding this concept. The Society for the Scientific Study of Sexuality lists respected research institutions, including the California Institute for Integral Studies, the University of Arkansas and the University of Kansas, as offering graduate-level coursework in human sexuality, according to the article, "Doctoral Programs."
Counselors and Therapists
Some individuals with doctorates in human sexuality might decide to pursue jobs as counselors and therapists, although these might require additional or specific certifications to augment the doctoral degree, according to the American Association of Sexuality Educators Counselors and Therapists. Sex therapists or counselors might work alongside existing organizations, including health facilities or hospitals, to provide support for individuals struggling with sex-related issues. Professionals counselors and therapists in the field might also build their own private practices, building a client base similar to a traditional therapist's office but with a focus on human sexuality.
Research
Not all individuals holding an advanced human sexuality degree want to counsel clients, but instead want to study the topic more deeply through research-oriented inquiry. Knowledge from human sexuality research might eventually transfer to practical application in a therapist's office, but researchers will design and complete their studies before eventually publishing in a scientific journal, according to The Society for the Scientific Study of Sexuality article, "Journal of Sex Research." Researchers might publish empirical reports, essays, or literature reviews of topics related to human sexuality. Sample topics might include sexual health, sexual arousal, human reproduction or sexual relationships, according to The Kinsey Institute.
Education
People with a doctorate in human sexuality might also remain in the world of academia as professors. Universities need professors who can teach undergraduate and graduate courses related to human sexuality. Professors might work with other university departments for interdisciplinary efforts, including gender studies, science and engineering, or psychology, to support their course offerings, according to the San Francisco State University College of Health and Social Sciences article, "Sexuality Studies."
Advocacy
Some individuals might choose to apply their deep understanding of human sexuality to advocacy, working with nonprofit groups or non-governmental organizations on behalf of sex trafficking victims or victims of other types of sexual abuse. The 2009 Advocates for Human Rights article "Sexual Assault Advocacy Programs" states that advocates can encourage sexual victims to seek legal or medical counsel. Large-scale organizations rely on advocates for human sexuality rights to engage in debates, lobby states or governments, or articulate issues to the public in order to encourage discourse or positive change.
Photo Credits
BananaStock/BananaStock/Getty Images