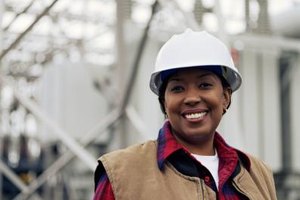 Environmental quality assurance is the process of ensuring the air you breathe is healthy and the products you consume do not pollute your surroundings. The professionals who work in this field assess the quality of raw materials, products and components used in industrial processes and agricultural operations to make sure they aren't negatively impacting the environment. If you are looking for a job in the environmental quality assurance field, you can pursue careers in environmental resources management, industrial inspection or environmental research.
Industrial Inspection
Industrial inspectors are hired to evaluate procedures that are performed on a product before it is considered safe for consumption. If the industrial inspector is satisfied with the quality and environmental safety of the product, he places a stamp of approval on the product. For example, an industrial inspector might test the chemicals used in production of agricultural fertilizer to ensure they don't emit gasses that have adverse effects on the environment. If he finds the product's quality questionable, he advises the company on corrective measures. A bachelor's degree in industrial engineering is sufficient to get you hired as an industrial inspector.
Environmental Research
Through research, environmental scholars are able to study the interaction of people with their surroundings. When a mining operation is set up, for instance, environmental researchers are called upon to investigate the potential impact of the operation on the environment and make recommendations on how to reduce the impact. The information they gather during research is typically published by government agencies and private institutions to enlighten the public on how the operation can affect air and water in the area. Environmental research publications are also used as reference material in universities. You need to earn at least a bachelor's degree in environmental science to land a job in this field.
Environmental Law
When environmental quality assurance specialists and industry stakeholders such as manufacturers disagree on an issue, environmental attorneys are called in to provide legal guidance. For instance, when a government entity revokes the license of a mining company because its operations violate environmental laws, a dispute can arise if the company disagrees. Environmental lawyers might be hired by the mining company to assess the mining activities, evaluate the government's position and offer an opinion based on the provisions of the law. Environmental lawyers are hired by everyone from government agencies to agricultural firms and processing plants to represent them in court proceedings and give advice on the legal implications of industrial and agricultural activities.
Environmental Resources Management
Most universities in the United States offer environmental resources management courses to students who are interested in the sustainability of natural resources. Environmental resource managers are trained problem solvers, conservationists and scientists who work with government agencies, non-profit organizations and consulting firms to identify and solve environmental issues. For example, they might give recommendations on the quantity of minerals mining companies can excavate within a given period in order to sustain a healthy environment.
Photo Credits
Dennis Wise/Digital Vision/Getty Images