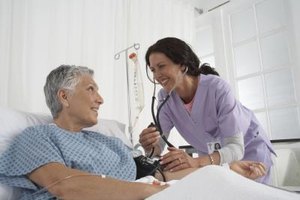 Surgical physician assistant nurse practitioners, or surgical nurse practitioners, assist surgeons during operations and care for patients before, during and after treatment. The path to becoming a surgical nurse practitioner requires a registered nurse license and completing graduate education as a nurse practitioner as well as having experience in the field. You can also choose to obtain certification.
Big-Picture Responsibilities
As a surgical nurse practitioner, you care for pre-, intra- and postoperative patients, including taking histories, aiding surgeons during operations and providing patients with postoperative medication. You manage and coordinate health problems that occur during the procedure and through postoperative care, such as assessing health treatment, working with surgeons to implement effective interventions and developing a health care plan. The job also entails evaluating the patient's status and altering treatment to achieve optimal success. Surgical nurse practitioners typically work in private and local medical and surgical hospitals; however, they may also work in surgical offices.
Daily Job Duties
Surgical physician assistant nurse practitioners assist surgeons in providing quality medical care through dispensing medication, checking vitals, managing pain, ordering and interpreting diagnostic tests and changing bandages. Within the operating room, nurse practitioners prepare surgery sites, drape patients, suture, prepare instruments and handle tissue. Surgical nurse practitioners also care for the emotional stability of patients by explaining procedures, answering questions, counseling patients about drug regimens and educating patients about self-management techniques. Additionally, they must perform these duties while adhering to strict federal, state and local laws and guidelines.
Acquired Nursing Skills
Medical and psychological knowledge is necessary for surgical nurse practitioners. They must understand principles in diagnosis and treatment, diseases, alternative treatments, personality, learning and motivation and behavioral disorders. A thorough understanding of drug properties and biology is also a must. These workers must possess critical thinking skills to assess a patient's state of health and diagnose emergency situations. They must be detail oriented and emotionally stable to cope with human suffering and assess patients.
Education and Training
The path to becoming a surgical physician assistant nurse practitioner starts with the completion of a bachelor of science in nursing. You then gain further education through an accredited graduate program for nurse practitioners. Completing a program that provides clinical experience in a surgical setting can also bolster your resume in this field. Additionally, employers may call for experience in a medical-surgical setting, typically two to five years. Some employers may also prefer experience in a nurse practitioner role.
Licensure and Certification
Nurse practitioners possess an advanced practice registered nurse licensure. The requirements for this licensure may vary by state. For example, in New York state, earning a nurse practitioner license requires meeting education requirements and possessing a registered nurse license. Additionally, as a surgical nurse practitioner, you can choose to become certified in a special area. For instance, the American Nurses Credentialing Center offers the medical-surgical nursing certification, which requires holding a current RN license, having two years of practice as a registered nurse, accumulating 2,000 clinical hours in surgical nursing and completing 30 hours of continuing education. The Medical-Surgical Nursing Certification Board also offers the certified medical-surgical registered nurse credential, which requires holding licensure as a registered nurse, practicing for two years as a medical-surgical nurse and having a minimum of 2,000 hours of practice in medical-surgical nursing.
Photo Credits
Wendy Hope/Stockbyte/Getty Images