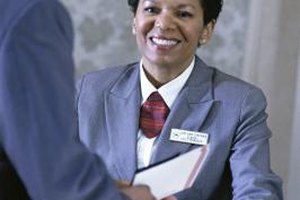 If the traditional nine-to-five workday doesn't mesh well with your schedule, you may be interested in a job as a night auditor. As the job title implies, individuals in this position work the overnight shift in hotels, motels or other lodging facilities and perform a combination of both auditing and front desk duties. Before applying for a job as a night auditor, carefully review the job description to ensure your interests and qualifications are compatible with what the company is seeking.
Responsibilities
The primary responsibility of a night auditor is to audit the transactions recorded by the day shift front desk clerks. This includes following employer-specific standard procedures to review the accuracy of all reported revenues and expenses, reconciling accounts, balancing ledgers and preparing reports. Additionally, the night auditor acts as a front desk clerk by assisting customers with checking in, checking out and accepting payments. He also performs the closing process for the third shift.
Qualifications
While the specific requirements may vary by employer, there are usually no formal educational requirements for this position aside from possessing a high school diploma or GED. However, college coursework in finance or accounting would give you a competitive advantage. Many night audit positions are available to entry-level candidates age 18 and older, though prior relevant experience in customer service, bookkeeping or accounting is preferred by most businesses. Inexperienced individuals often learn through on-the-job training offered in-house by their employers.
Scheduling Requirements
In this role, you'd be working overnight shifts, which are typically between 11 p.m. and 7 a.m. Ask for clarification regarding the scheduling requirements to determine whether you will have a regular or irregular schedule in regards to specific days of the week you'd be working. Because hotels are open 24/7, most employees must work schedules that include weekends and holidays. Be sure to take this into consideration when determining whether or not you are able to meet the scheduling requirements for this position.
Other Considerations
Night auditing positions can be full-time, part-time or seasonal, so be sure to inquire about the status of the position you are applying for to determine how many hours you can expect to work per week, the duration of your employment, and whether you will qualify for benefits such as health care insurance and retirement plans. This position requires the ability to multitask, provide excellent customer service and work in a fast-paced environment. It is important that you are comfortable working in this type of environment.
Photo Credits
Jupiterimages/liquidlibrary/Getty Images