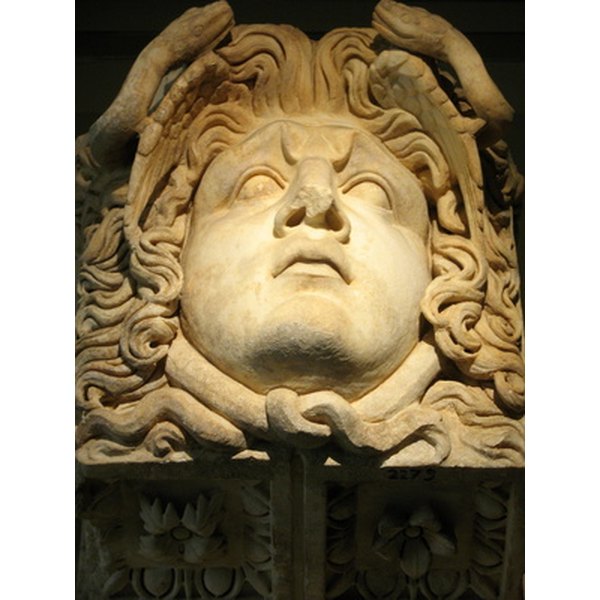 Frighteningly realistic costumes are memorable, but they can also be costly. The fearful Greek monster Medusa is a classically creepy costume character. The snake-adorned Medusa wig that makes the look, however, is a pricey item. With a few inexpensive hair extensions and a handful of plastic snakes, you can create your own Medusa headpiece at home.
Items you will need
Three hair extensions to match your hair color
Plastic toy snakes
Bobby pins
Needle
Thin jewelry wire
Step 1
Braid each of the three hair extensions.
Step 2
Wrap the braids into a bun shape and pin it together with bobby pins.
Step 3
Snip the jewelry wire into short pieces, one piece for each toy snake. Vary the lengths between 2 and 7 inches.
Step 4
Thread a sewing needle with one piece of jewelry wire. Pull the wire through a snake's underside.
Step 5
Twist the other end of the wire around a bobby pin and pin the snake into the bun. Perform this procedure for each of the toy snakes.
Step 6
Secure any snakes that are not held in firmly with additional bobby pins.
Step 7
Place the bun on your head and secure it with the extension combs and bobby pins.
Tips
If you have long hair, you can braid it and combine your braided hair and the extension braids into a bun directly on your head. Pin the wired snakes into the bun and secure them with bobby pins.